Testimonials
March 2023 Adult Group Tour
Hi Robyn,
Yom Ha'Atzmaut Sameach! (Wow, my Hebrew has improved so much - lol.)
I'm sending this email to say what an amazing time my mom and I had on our trip last month. Being my first trip to Israel, I knew it would be fantastic, but it was the expertise of Margaret Morse Tours that made it so magical and inspiring.
It was such a pleasure spending time with you. It was so much fun for my mom to reminisce with you - about her first trip with my dad 30 years ago and spending time with your Bubbe. Thanks for all of your suggestions and insights. You're doing a great job carrying on the family tradition.
We can't say enough about Allan's depth of knowledge and his wonderful presentation style. Each morning we looked forward to what we would learn at each stop, and on the bus to get there. The trip was so inspirational - through Allan's spirituality, love of Israel, and his ability to tie the past to the present, and our collective future.
Rami was the most amazing bus driver. Besides his wonderful driving skills, he happily helped my mom SO many times each day - getting on and off the bus. He always greeted us with a smile and had such an all-around professional manner.
Please send our best regards to both of them.
Thank you for the careful attention that your company pays to each detail of the trip. From early morning to bedtime, everything was just wonderful .... and delicious, of course!
My mom and I are both available to speak to potential travelers who may want to connect with someone.
Wishing you all the best,
Sharon and Sandy Israel
2022- Adult Group Tour
Dear Robyn & Michael,
Happy New Year!
Now that High Holy days are behind us, and we have returned from our post Israel trip to our children and grandchildren, we can finally reach out to let you know that our trip was amazing!!!
From the moment we stepped onto our EL Al flight to the moment we landed back in Miami, our trip far exceeded all of our expectations. Many thanks to you and your organization for helping make this trip a trip of a lifetime. We have nothing but high praise for Allan and Shimshon who each in his own way made every day special. Allan's love for Israel is contagious, and his uncanny ability to share his extensive knowledge of both historical and current events enhanced our experience. Allan's manner, wit and delivery was a joy to behold. In fact, we told Allan that we learned more from him than in all the years we spent in Hebrew school. We appreciated how every detail of the tour was planned for us. The attention to detail that you provided enabled us to focus our energy on absorbing the sights, sounds and history of Israel past and present.
We look forward to one day returning to Israel, and of course it will be with Margaret Morse Tours.
Please feel free to reach out if you have need for any additional feedback.
best,
Lori and Ira
Lori and Ira Pedowitz
Boynton Beach, Florida
2022- Family Bar and Bat Mitzvah Tour
We are back from our grandson's Bar Mitzvah tour. What a wonderful, emotional, spiritual and magical trip it was. Bruce, our tour guide, is so knowledgeable and made it fun and interesting for kids and adults. Caring, personable assistants managed to get the children, of varying ages, to mingle and make lifelong friends. That is no easy feat. The itinerary, lodging and food were all top notch. Absolutely loved the kibbutz. It was right out of a warm, fuzzy storybook. All of it and then the celebratory gala, wow! Thank goodness we took photos to recall the splendor of the Israel you showed us. Thank you Bruce and Margaret Morse tours for the most spectacular memories of a lifetime.
Phyllis Goldstein

2022- Family Bar and Bat Mitzvah Tour - writing from the airport
Well, we are on the way to the airport and probably don't need a plane to get home; we are all on a high. Our second tour and our second MAGNIFICENT time.
We couldn't love your team anymore, we couldn't love Israel anymore.
Keep sending people there, keep educating us as to how important that country is to the Jewish people.
Thank you
The Wolf's
The Wolf Family of 7
Marlboro, New Jersey
2022- Family Bar and Bat Mitzvah Tour
Hi Robyn,
Thank you for an AMAZING Bar Mitzvah Trip!!!
It was a trip of a lifetime and extremely well planned and organized. We loved every aspect: the beautiful hotels, the great food, the fantastic celebrations including the Shabbat and Bnei Mitzvah celebrations and the incredible daily trips with amazing itineraries.
Allan was a fantastic guide with a wealth of knowledge and a great sense of humor. Omri was also great with the kids.
It truly was a trip of a lifetime. I often wish it was longer than 16 days! We really loved our incredible trip and experiences and we look forward to an Adults/Family or Revisitors Tour with Margaret Morse Tours when Mikey finishes high school.
Thank you for an amazing trip that has left lifelong memories!
Diana Wishniak
B.Ed. (special education), OCT, M.B.A., J.D.

Diana Wishniak
Thornhill Ontario
2022- Family Bar and Bat Mitzvah Tour
Dear Robyn,
Our family had an amazing and impactful trip of a lifetime. We were blown away by Allan's intelligence and constantly thoughtful commentary (and David's as well).
In general, we deeply appreciated the depth of planning and commitment to excellence that we experienced.
In addition to our phenomenal tour guides, we also specifically appreciated the fine hotels, the exceptional food, the gracious and careful bus drivers, the amazingly warm counselors Gilad and Omri, the special Bat Mitzvah (and wonderful rabbi), and the meaningful sights and learning experiences at each destination.
In short, the entire experience was spectacular and life changing for every member of our family.
If we (including our children) can be of any assistance to you, Michael and your company by serving as sources of recommendation for others, please let me know.
Sincerely,
Evan Janush
The Janush Family
New York, NY
2022- Family Bar and Bat Mitzvah Tour
Dear Robyn and Michael,
As jet lag is finally wearing off, we are struggling not with getting back to everyday life in Miami, but more with wishing we were still waking up in Israel. The Margaret Morse Tour was a life-changing and eye-opening experience for us, a family that has been chasing miracles for the last 3 years....and finding them! Well worth the wait! And having Michael along on the tour made it even more special.
From the detailed organization, fine accommodations, food quality, experienced guides, Bar Mitzvah arrangements, depth of itinerary, balance of free time, and special surprises by MM, we were pleased beyond expectations.
As you know the challenges we faced with cancer and COVID delays, the word "Chai" holds even more meaning as we placed our prayers at the Kotel written on Japanese origami paper and posted the travels of our son's new Kiddush Cup that was made in Japan at a kiln founded by Asako's ancestors dating back to 1801. Israel truly solidified our Jewish identities while further blending our family's multicultural richness and connection to the world. Follow our images on @InabaStyle to see some shots from the trip
As we are local, we hope to continue maintaining contact with you and look forward to the day that we can thank you in person.
Always happy to show our support for MM Tours and wishing you continued success for the mitzvahs that you make for some many families.
With best regards,
Douglas, Asako and Hudson Kaplan
The Kaplan Family
Miami, Florida
2022- Private Family Tour
Dear Robyn:
We wanted to tell you what a wonderful tour the Wilson-Kramer Families had.
Thank you for the excellent arrangements and accommodations. You were able to accommodate each families schedule to provide a great individual experience for each family and for our shared time together.
Our wonderful tour guide Benzie was very knowledgable and experienced. He did a fine job on last minute adjustments to allow for each family's individual needs and the weather as well. We are especially grateful for his recommendations on restaurants and extra activities and for the time and individual attention he gave to the children whose education and experiences were the primary purpose of the trip.
Our driver provided us with safe and secure transportation and his ever pleasant demeanor made us all very comfortable. He was invaluable when we had a passport mixup and he made arrangements to get one passport from Maa'le Adumim to the airport in record time.
Thanks also for the mezuzah gifts and the custom engraved rings for the children. We also wanted to thank Rabbi Shlomo who performed a very warm and inclusive Bar Mitzvah ceremony for Landon.
Thank you very much.
Gordon and Eve Kramer
Gordon and Eve Kramer
Rancho Mirage, California
2022 - Summer Family Tour - writing from Israel during the tour
Robyn
Wanted to take a minute to tell you these kids are having a blast. I can not thank you & Michael enough, for allowing my entire klan to participate on this adventure. They are all absorbing the love of Israel & doing it as a unit, as cousins, siblings & family.
Hope you are doing well, & hope to see you one day in the near future.
Still have 9 days & I guarantee you no one will want to go back home, except the grandkids going to Camp Judaea.
Stay safe,
Bertha
Bertha and her family of 18
Charlotte, North Carolina
2022 Spring Adult Group Tour
Robyn and Michael,
We had an absolutely fantastic time seeing and experiencing Israel. Your company has curated the perfect itinerary for us, "first timers" and we are overwhelmed with gratitude that we were able to join the group.
From our first day in Tel Aviv at the Carlton Hotel, being spoiled by huge Israeli breakfasts we knew we were in for a good time. But that didn't become as clear until we met Alan, our dedicated, comprehensive, thorough, knowledgeable, personable, funny and quite charming tour guide. From that moment on, we were the "mellow yellows" and felt so fortunate to be in Alan's more than capable hands. Top that off with Shimshom our fabulous driver and you get the perfect team!
We loved all of the history that Alan gave us and the historic sites that you planned for us. Our bucket list moments are almost too many to list, however the light and sound show that you took us to on our first night in Jerusalem, and pretty much ALL OF JERUSALEM from that point on, were among the most emotional and memorable moments.
In addition, we feel so very blessed to have spent the 16 days with Sandy and Sandi and again, we appreciate you making sure that we were able to go with the group that they had been signed up for for a couple of years. We experienced with them some of the most incredible moments and built memories that we will never forget and will last a life time and more. Enjoying the Wall, the tunnel, and shabbats with our whole group were life changing moments in addition to being a part of Aunt Sandi's Bat Mitzvah! Thank you for making all of this possible.
Your team and expertise made for a perfect first trip and we hope some day soon to return to OUR beautiful country.
Thank you for the opportunity,
Love,
Teddi and Brad Gilderman
Teddi and Brad Gilderman
Calabasas, California
2022- spring adult group tour
Dear Robyn,
I just returned from my Israel tour with Allen and our group of ten. It was truly a dream come true. I had never been able to visit Israel although I have children living there My husband had health issues and we tried planning several trips over the years but two times that we had actually made reservations we had to cancel as he was hospitalized. We then just decided it was not meant to be. Unfortunately last year my beloved husband of 47 years passed away at the age of 91.
I now faced a new part of my life and decided to make Aliyah. My daughter and son-in-law were willing to share their home with me. I sold my house, retired from teaching and at the age of 77 came to Israel in September 2021. I am pleased with my decision but still wanted to see Israel. I signed up for your tour with my cousin Helen Burton and it was the best decision I made.
The trip that we embarked on was more than I ever could have imagined. Allen, our wonderful guide, showed us and explained to us all of the sights. He was so patient, humorous, and passionate. He was very inspiring to our whole group and I learned so much. The tour was splendidly crafted to give us a detailed look at the history and accomplishments of Israel. The beautiful hotels and meals certainly added to the experience. The driver Akiva was wonderful. He mauevered our comfortable minibus through the narrow streets and highways all across the country. I am so blessed to have had this marvelous experience and thank you for the wonderful job that you do. I will recommend Margaret Morse Tours to everyone.
I wish you all many years of success. Thank you,
Roslyn Feinberg
Roslyn Feinberg
New Jersey
2019 Family Tour
Aliza & Greg Schwartzman & Family Media, PA
Why did you choose Margaret Morse Tours?
About 2.5 years ago, I posted on Facebook looking for a recommendation for a tour company that did mitzvahs in israel. I received 3 different recommendations for Margaret Morse from people at various stages in my life who had never met each other – a friend when I lived in Baltimore, a friend from law school and a college friend I had lost touch with. I figured if these three people all selected Margaret Morse, there must have been something special about the tour. So, I looked up the itinerary and the Facebook comments and started bothering you over 2 years ago for the 2019 summer dates. The day you posted them, I booked.

How would you rate your overall tour? (1-5 rating scale; 5 = loved it!) 5

What were the highlights of your tour? Allan makes the trip wonderful. He is funny and entertaining and patient and educational. The sites were interesting and varied and we didn't stay anywhere too long so the kids did not have a chance to get bored. The food was great and the lodging very nice. We loved the dead sea and rafting down the Jordan. Yad Vashem is always a tremendous and valuable experience.

Do you have any suggestions or additional comments for us? The quick lunch time stops sometimes proved difficult as we all went in different directions and the menus were often in Hebrew making it difficult to order. It would be better if you just picked a restaurant and let us loose.
Family of 11 from NY- 2019
The Getz Family Plainview, NY
Why did you choose Margaret Morse Tours?
My mother coordinated the trip for our family group of 11. She chose Margaret Morse over doing a private tour because there would be other kids on the tour for her 5 grandchildren to interact with. Also, there were activities for them to do that were geared just for the kids.
How would you rate your overall tour? 5 - it was AMAZING! (1-5 rating scale; 5 = loved it!)
What were the highlights of your tour?
Watching my son and nephew have their Bar Mitzvah on top of Masada, floating in the Dead Sea, Ron Perry's morning song on the bus, Chagall windows, Bullet Museum
Do you have any suggestions or additional comments for us?
We cannot say enough amazing things about our tour guide, Ron Perry. The man is a walking encyclopedia and Wikipedia rolled up into one. It was fascinating to listen to him. He is a wealth of knowledge. As for the counselors, Itamar and Omri were fantastic with the kids. We cannot say enough good things about them. Itamar and Omri always had a smile on their faces and made sure all the kids had a good time. The end of the tour party was so much fun. The Hebrew name rings were a nice surprise and my kids love them.
We would have liked more time for shopping. We felt that part was rushed in each of the stops. The back to back days of getting up at the crack of dawn for touring that went into the evening in Jerusalem was hard on the children. While the tour stops were great, there needs to be a day of not getting up so early in between.
2019 Families - NY, PA, NJ
"Margaret Morse tours came highly recommended by others. It did not disappoint. My entire family loved the tour (5). Tour guides Allan and David did a great job. Omari worked very well with the kids. The highlight for us was bar mitzvah day and night. Kudos to your entire team."
Sam Leibowitz and Family
Plainview, NY

"Hi Robyn! Hi Michael!
We wanted to take a moment to let you know about the amazing experience we had with Margaret Morse. From the very first meet and greet to our final good-byes, it was pure perfection. Even though my parents and brother and sister-in-law did a tour before us and told us a little about what to expect, we were still blown away every day. We felt safe, valued, and excited the whole time. Our tour guide, David, was phenomenal, as were Omri, Itamar, Marty, and Alan. We saw and conquered everything we set out to. If you provided tours in other countries, we would join you without reservation (once we recover financially from this one, of course!) You can expect a lot of referrals from us. We think everyone should have an opportunity to see Israel the Margaret Morse way!!!! Thank you so much for the unforgettable experience you have given our family. We will never forget it!!!
Ellen, Joff, Chloe and Lila Barbash
Lafayette Hill, PA
"We chose Margaret Morse Tours because we had gotten great feedback from people who took this tour before. We would rate this tour 5+ Our guide David was outstanding. He was extremely knowledgeable as well as very attentive and personable. His descriptions and explanations were very enlightening and appreciated by both the adults and the children. The counselors were a terrific addition to this trip. They were such nice, affable, friendly young men and they made a significant difference in getting the children to bond with each other and have a fabulous time. GREAT GREAT TRIP!"
The Gern Family
Livingston, NJ


"Hi Robyn,
The trip was spectacular! Allen, our guide, was wonderful, and our tour was very educational. We learned so much about Israel and the history of the Jewish people. Our son's Bar Mitzvah at Masada was so beautiful, and the celebration on the last night was really fun! We danced all night! The hotels were all great, and the food, all week, was excellent! Also, your youth counselors, Omri and Itamar, were fantastic with all the kids! We will recommend your tour to all our friends."
Melina Kuflik McCauley & Family
Chappaqua, NY

2019 Family Bar and Bat Mitzvah Tour
"MM was recommended by my friends Tiffany Liff & Randi Schwartz
Tour Rate – 5 out of 5
Highlights: Allan :) The Bar Mitzvah & Party. The Western Wall. Rafting Trip
Suggestions: Take out the Old Jaffa Stop or make it optional. It was late and super hot. 99% of the people on our bus were over it by that point of the day. There are a lot of days you get back and have to rush to get ready to make it to dinner at the scheduled time. A little down time after all the activities, before dinner even if it's just 30 minutes would have been nice on some days.
Other than that it was the trip of a lifetime. Allan was incredible and made the trip so much more special. The heartfelt manner he told about the history & culture of Israel made it so meaningful and memorable. Omri was a surprise and incredible with the kids. Jake learned more in the 2 weeks with Allan, than his 6+ years of Hebrew school and I am sure he will remember it for a lifetime.
I would highly recommend the trip to all my friends. All the little gifts were also and incredible touch of thoughtfulness." Thank you again from my entire family,
Kristy & Ralph Breslaw & Family Boca Raton, FL

2019 Family Tour
"Our friend Linda Stewart recommended your tour for our granddaughter and her parents. Everybody agreed it was fantastic. Gladly give it a five. This was our 7th trip to Israel and by far the most comprehensive. The service at Masada was great even though she had her bat mitzvah October it was her first time in Israel. She bonded with the others we asked her why all the kids got along so well and her answer was because no one knew each other before. Interesting response.! Thanks for the great time.
Kay and Bill Fleisher
Ft. Lauderdale, FL
2019 Family Tour
"We chose this tour because our friends went and really liked it. We loved it. We have been to Israel 3 times before and this was our 4th. Our guide Alan was exceptional, he was able to explain everything in a way that both the adults as well as the children were interested. We saw a lot of new sights and met great people. In terms of suggestions - I wish we had a little more time at the dead sea as well as had a chance to swim in a natural springs for a few hours. We are hoping to be back in 3 years for Gabby's Bat Mitzva. "
Violina Frenkel and Family Basking Ridge, NJ
2019 Family Tour
Nancy & Michael Udin & Family Hartsdale, NY
Why did you choose Margaret Morse Tours? My son and daughter in law looked up bar/bat mitzvah tours online and chose yours. We were going with them.
How would you rate your overall tour? (1-5 rating scale; 5 = loved it!) If I can give you more than a 5 I would, so a definite 5+!
What were the highlights of your tour? Where do I start? From the hotels, to the knowledge of the guides (in particular Bruce, who was our tour guide and absolutely terrific!), the actual Bar Mitzvah ceremony on top of Masada, the food, the markets, floating in the Dead Sea, and pretty much everything else! We have discussed this trip at home and we asked and were asked what was our favorite part and we had to say all of it! And of course, when my grandson Zachary, (the barmitzvah boy) said to us "Why can't we do this every year?", we knew that it was an awesome tour. His brother Spencer absolutely loved it as well!
Do you have any suggestions or additional comments for us? If we could have had a little more free time to explore the markets that would have been perfect. But outside of that, you guys are the best!! (I've already recommended your company to others.)
Three Generations - Family Tour - 2019
Jerry & Gail Solomon Naples, FL
Lindsy Solomon Alberq, NM
Levi Emberton..Bar Mitzvah Boulder, CO
"We chose Margaret Morse Tours because they were recommended to us. Then once I spoke with everyone there it convinced us that you were the best ones.
Our rating is a 10. Considering the hoops that Mike Morse went through to help us make our plane in Miami and get our daughters luggage on to the next flight. He was indispensable in helping us and owe him a great deal of gratitude.
The highlights of our tour for myself and my wife Gail were the Holocaust Museum and the bullet factory. Our grandson Levi loved everything, especially the hotels, Bar mitzvah ceremony on Masada and the celebration that night. He along with our daughter Lindsy bonded with Counselor Omri. He is a great young man. She loved hearing about the history and the culture and absolutely loved the food. There were many wonderful moments on the tour including meeting new people and making new friends.

Our suggestion which was discussed among many participants on the tour was that a gratuity amount for the tour guides and drivers should have been included in the cost of the tour and not an optional thing. Also there was not enough time allocated to certain areas such as the Holocaust Museum and the Art Museum. Would have liked to have more time for shopping and markets.
We are looking forward to coming back to Israel and will certainly use Margaret Morse once again.
Thank you for all your great work and personalize service."
Jerry & Gail Solomon Naples, FL Lindsy Solomon Alberq, NM Levi Emberton..Bar Mitzvah Boulder, CO
Family Tours - 2019
"Hi Robyn,
I stand by my comments made earlier…we (our family) do a lot of traveling and have been on many organized tours with Tauck and Globus and other companies. The Margaret Morse Tour to Israel was by far the best tour that we've ever been on. We chose Margaret Morse because we were looking for an Israel tour that included other kids since our daughter was turning 11 on the trip, she was not quite bat mitzvah age, but still we know that having other kids would make her trip more enjoyable. We give the tour a 5 out of 5, absolutely loved it.
Highlights were the Dead Sea (1 hour there was simply not enough time) and Akko (Acre) Prison. The prison in particular really reawakened or reinforced my lifelong Zionism. Our tour guide David was also incredible and he made the entire experience that much better. Also you should know that Omri the counselor was the star of the trip. His passion and personality equally attracted the kids and the adults. He is a superstar and we can't tell you how amazing the trip was without including his name.
Logistically, I have to say that even though we were all told before the trip to drink a lot of water and always have water, you don't fully appreciate the seriousness of those words until you're there in the sun. The ridiculous plethora of water always available to us in the front of the buses was amazing and a real difference maker.
We've been telling everyone in Fort Lauderdale to look in to your trips and we hope to return to Israel soon.
Warmly, Trevor TREVOR FRIED AND FAMILY Ft. Lauderdale, FL
2019 Re-Visitor Adults Only Tour
Sharon Appel Boynton Beach, FL
Why did you choose Margaret Morse Tours?
I went 5 years ago with Margaret Morse and loved it. (May 2014)

How would you rate your overall tour? (1-5 rating scale; 5 = loved it!)
5

What were the highlights of your tour?
CAN't pick. EVERYTHING!

Do you have any suggestions or additional comments for us?
Can you plan a RE-RE-VISITORS TOUR?
2019 Re-Visitor Adults Only Tour
Ronnie and Sid Weber Tarrytown, NY and Coconut Creek, FL
Why did you choose Margaret Morse Tours? Our first Margaret Morse tour was excellent!!! (traveled with MMT March 2011)
How would you rate your overall tour? (1-5 rating scale; 5 = loved it!) Definitely 5
What were the highlights of your tour? Everything was excellent from Tel Aviv to Jerusalem and everything in between. The Western Wall, The Palmach Museum, The Yvel jewelry tour, the Kibbutzim, the drainage tunnel under the old city, the unbelievable grottoes, the CHOCOLATE!, and the Israel Museum. And especially the Shabbat services. It was all fabulous!!!
Do you have any suggestions or additional comments for us? I can't think of a thing we missed (except the Knesset which was closed).
2019 Adults Only Tour
Linda & Greg Hamilton Allentown, PA
Why did you choose Margaret Morse Tours? We researched online and with friends, checked out several tours and MM hit all the sites we wanted to visit. Your reviews were great and two friends said they had heard good things.
How would you rate your overall tour? (1-5 rating scale; 5 = loved it!).

We give it a 10!

What were the highlights of your tour? Our fabulous guide Allan made the trip extraordinary. His expertise in history, Judaism, archeology, Israeli life and culture and so much more is amazing. He is interesting, passionate, funny and a great story teller. He was good at keeping everyone informed and on time, too. Highlights include saying shehecheyanu on Mt. Scopus when we reached Jerusalem; walking into Hadassah and seeing the Chagall windows was a thrill. The tunnel under the wall and the wall, especially on Shabbas; Masada, the Valley of Tears, the Dead Sea and Petra. The fun day of wine and food was perfect after the seriousness of the preceding days. Being at Ben Gurion's gravesite on our last day was a good way to end our journey. Shopping experiences were much appreciated. We actually enjoyed every single thing we saw and did.
Do you have any suggestions or additional comments for us? Petra was exhausting and we would have loved one more day in Eliat to recoup and rejuvenate before that long last day. The only complaint we have is the restaurant in Jordan; it wasn't clean and the food was not good.
Thank you for making our first trip to Israel the trip of a lifetime!
Linda & Greg Hamilton Allentown, PA
2019 Adults Only Tours
Brian and Rose Moskowitz Lake Worth, FL
Why did you choose Margaret Morse Tours? Almost everyone in my development said that it was the only way to go...so we did!
How would you rate your overall tour? (1-5 rating scale) #5 = LOVED IT!!! Best trip ever.
What were the highlights of your tour? ., Our wonderful tour guide --- David. He made the whole trip alive...he is knowledgeable, and shared information that made the whole trip not only enjoyable but enhanced my knowledge of the history of my people. He made it come alive and relatable.
Do you have any suggestions or additional comments for us? keep the occupants of the buses small in number...ours was a perfect size...we could ask questions, hear what was being said and we became a part of the group.
2019 Adults Only Tour
"My husband, Jerry, and I chose the Margaret Morse Tour Company after hearing not only from family members but also from members of our community about your outstanding and complete tour of Israel. This was our first trip to Israel and the recommendations that we had received were definitely accurate! Our guide, Allan, presented us with not only the cultural and religious aspects of the country but also added humor, answered questions, and provided attention to our needs.
Our rating for the tour would be higher than a 5 because we absolutely "loved it." We want to thank Allan. our very "skilled" Bus Driver, Moshe, and the Margaret Morse Tour Company for making our trip one that we will always remember.
Highlights we especially enjoyed were our visit to Upper Galilee, the Tree Planting, the tour to Tell Megiddo, the Ayalon Institute, Yad Vashem, the visit to the Western Wall as well as entering the Tunnels that run along the Wall, the Sound and Light Show at the Tower of David Museum, the entire Masada experience, floating in the the Dead Sea, "my" Bat Mitzvah, and of course enjoying our day at our beautiful hotel in Eilat, The Royal Beach. I also want to include the evening song and dance events that added SO much to our enjoyment.
With much appreciation for a thoroughly WONDERFUL time!"
Sheryl and Jerome Lean
Boynton Beach, FL
2019 Adults Only Tour
Carol & Jonathan Hoffman Coral Springs, FL
Why did we choose Margaret Morse tours?
We choose Margaret Morse tours because of its outstanding reputation among our family and friends. Our parents went on MMT many years ago and raved about it.

How would you rate your overall tour?
5- loved it!

What were the highlights of your tour?
We appreciated everything about it. The tour guides were excellent. We had Marty. They were extremely knowledgeable and were able to relate the ancient history and current events in a very accessible and entertaining manner. The food was beyond delicious and plentiful (though not crazy about dream fish). The sites were fabulous and inspiring. The hotels were beautiful and comfortable. The transfers between hotels were gratefully seamless and the bus driver was extremely reliable and friendly.

Do you have any suggestions or additional comments for us?
Everything was great from beginning to end. We already highly recommended MMT to our friends.
April 2019 Adults Only Tour
"I wanted to drop you a quick email to let you know that we had an absolutely fabulous time on your April 2, 2019 – April 17, 2019 Adults Only Tour to Israel. Visiting Israel was the #1 item on my "bucket list" and your trip far exceeded all of our expectations. I can't begin to describe the feelings we all had (me, my husband, my daughter and my son-in-law) over the course of this trip as it related to this amazing country and its people. Allan was an unbelievable tour guide …. So knowledgeable, so passionate, so caring, and hysterically funny. We spend a lot of time laughing along with him, but also being very serious and passionate at appropriate times. Everything was well organized, ran smoothly, and it was great having only 22 people on our bus, always kept clean by our driver Akiva. This was truly the trip of a lifetime! I spent a long time evaluating many trips before booking with Margaret Morse, and we all agreed that we made the best choice!" Laura Lande Livingston, New Jersey
June 26 2018 Family Tour
I wanted to drop you a note to let you know that the trip exceeded our (high) expectations! From the sites to the hotels, and especially the Bar Mitzvah, we could not have been more pleased. The rabbi was a new one to the company, and while I forget her name, I wanted you to know that she did an outstanding job. The counselors also made the trip extra fun for the kids, and we really enjoyed getting to know Matan and Omri.
I have already recommended Margaret Morse Tours to a few people, and will happily continue to do so.
Best,
Jessica Fink
May 2018 Adults Only Tour
We just got home from your 1st time trip to Israel. We had such a wonderful time that we wanted to let you know how very pleased we were with the trip and especially with our guide Ron. Ron was exceptional, so knowledgeable, caring and delightful in every way. Our driver Akiva was excellent also. We hope to be able to do a second timers trip in the near future
Judy and Steve Feldman
Sent from my pad
2018 - Spring Adults Only Tours
Marsha and I wanted to go to Israel for the first time so my wife did a lot of research for the Israeli tours until it became obvious that the MM Tour was the only one we wanted. We want to thank you and your sister for answering question after question so graciously and always ending each call with don't worry you can call us at any time. We told our friends Susan Pickoff, Judy Romaine and Sumner Levine and within days, the five (5) of us booked "the" trip of a lifetime. April came so fast and when your package came containing name tags, luggage tags, numerous articles of trip brochures and schedules we got a blast of adrenaline.
From the moment we landed in Tel Aviv we were greeted by the Margaret Morse Team at Ben Gurion who led us through luggage pickup to our awaiting bus. Short ride later we reached the Carlton Hotel in Tel Aviv where we were greeted with drinks and fruit and given our room keys. From there on we saw Israel from one end to the other saying at beautiful hotels serving Israeli style breakfast (I'm a picky eater but I found out that the food items I thought I wouldn't like) became my stable.
To those looking to save money, Margaret Morse is not for you but when you look at the small savings compared to the really educated tour guides (we had David and he earned 10 stars) and the sites you never will see, the savings is nothing.
So from Michael and Marsha Kamens (Easton, MA), Susan Polikoff (Easton) Judy Romaine and Sumner Levine(Foxboro, MA) we wanted to let you know that we loved your tour, the bus driver and our Tour guide. The really highlight was meeting your mother who did a good portion of the tour, and joined us for quite a few dinners but when she organized the teaching of the Hora. She was perfection personified, extremely knowledgeable on top of making sure we were happy and well taken care of.
PS: If you ever need references our group of five which became nine from new friends we met will certainly be glad to answer questions
Marsha and Michael Kamens
Easton, Massachusetts

Spring 2018 Adults Only Tours
Dear Wendy, Robyn and Michael,
We just returned from our trip to Israel with Margaret Morse Tours, and I had to write to tell you what a FABULOUS time we had! The trip was amazing! The sites were unbelievable, the hotels were first class and the whole experience was unforgettable. Without doubt, the crowning glory that put our experience over the top was our incredible guide, Ron Perry. Not only was he knowledgeable, interesting, and humor- our, but he was compassionate and helpful with all of our needs. From his first song, which he sang to us every morning - until he safely dropped us off at the end of the day, we felt educated, entertained, and well taken care of. We came with a group of 10 people and everyone felt the same way. Ron is an outstanding guide and a real asset to your agency. A person we met on our bus had medical problems and we were all impressed at how compassionate, helpful and understanding Ron was regarding her needs. Many of the guides in Israel are excellent, but Ron was a cut above all of the rest. He provided us with an intense emotional attachment to our homeland , and we are forever grateful to Ron and to Margaret Morse Tours. Thanks again for a wonderful experience!
Anne and Hal Leeds
Livingston, New Jersey

December Family Tour 2017
Hi Michael,
We recently returned from the December 2017 Bar/Bat Mitzvah tour of Israel. The tour was fantastic and well beyond our expectations. The hotels were great, and the meals were way beyond anything we had expected. We really could not believe how good the food was, and the selection of food at each meal was amazing. The hotels really did a great job of meal preparation.
The tour guide on our bus was Allan. I am sure you have received many positive reviews about Allan, and I can only reiterate them. He not only had an encyclopedic knowledge of Israel's history, culture and political situation, but he was extremely articulate in relaying that information. His knowledge, speaking skill, passion, and sense of humor were incredible and having him as our tour guide made our trip fantastic. As I told him, he was better at delivering a lecture than any professor I had in four years of college.
The Bar/Bat Mitzvah ceremony was great, and the setting at Masada was beautiful and profound. I had never been to Masada, so I was a bit reluctant at signing up for a tour that did the ceremony at Masada rather than at the Western Wall. However, after having experienced it, I understand why Masada is used.
Everything on the tour went smoothly with no snafus. There were not even any delays at things like hotel check-ins or getting into the sites we visited. I was amazed at how everything went so smoothly in light of the fact that we had so many people on the tour. That speaks very highly to the organization and professionalism of the tour. Having youth counselors for the kids was also a great idea that worked well.
My only suggestion for improvement would be to reduce a few of the nonessential sites, such as the visit to the intelligence museum in Tel Aviv. We would have liked to have had some afternoons in which we got back to the hotel around 3:00 or 4:00 to wander a bit on our own for a couple hours before dinner.
Thank you for providing such a wonderful tour and amazing Bat Mitzvah experience for our family.
David and Andrea Ozeran
The Ozeran Family
California
2nd Time Around Tour - Adults Only 2017
To the entire Morse family;
My wife, Robin and I returned from the second timers tour and we both felt that it was informative an gave us a renewal in our love for the land of Israel. Our tour group leader was Ron and he made the trip quite interesting and challenged us to become part of the energy that he gave to us as we toured this country. The tour was one that demonstrated the determination of a people and how all of Israel deserves our support. All of the hotels were very good and the staff made us feel welcomed and did their best to meet any specific requests that we had. It was a group that seem to bond from the beginning and it was most gratifying to be able to continue the friendships long after the tour had ended.
Thank you for your excellent work and I strongly recommend this second timers tour for all those who have the chance to revisit different areas of Israel and meet those brave men and women who guard their country. Thank you again,
Robin and Alvin Schwartz
Lake Worth, Florida
October 2017 Adults Only Tour to Israel
Robyn and Michael,
Just wanted to let you how pleased we were with our recent trip to Israel.
It was truly an experience of a lifetime.
The trip more than surpassed our expectations.
You delivered on what you promised.
The accommodations were all first class and your team in Israel could not be more welcoming.
Our guide, David, surely enhanced our visit. He provided an extremely interesting narrative. We could listen to him for hours.
He was exceptionally knowledgeable about the history of the places that we visited and intensely passionate about The State of Israel.
Had there been a recording made during the tour, we surely would have purchased a copy.

We both feel that Margret Morse Tours provided an excellent value.
We look forward to returning to Israel with family members for another tour.
Thank you for providing such a memorable experience.
Laura and Howard Litwack
Bellmore, New York
October 2017 Tour
I just had to tell you how amazing Itai was as our tour guide the last 2 weeks. His true love of Israel and personal accounts made Israel real and very lovable. He truly cared about each and every person on the bus. He showed his compassion for us as people and cared about our safety. His knowledge was boundless and he gave elaborate explanations that made us all feel like we were there at each of the various periods in history. I told him that he shared with all of us a love of Israel that was unique and genuine. He was eloquent, succinct, charming, personable and brilliant in his interpretation of how things evolved in Israel to the miracle of a country it is today. Thanks so much for having Itai as our guide as he made the trip the best ever.
Ann Mergler
Port Washington, New York
October 2017 Group Tour
Dear Robyn and Michael,
I just wanted to let you know how thrilled I was with our Margaret Morse Tour to Israel. For my wife and me it was the trip of a lifetime. We could not have been more pleased by our guide Marty Friedlander and by the sites we got to see on a daily basis. We could not have seen what we saw had we chosen to go on our own. Thank you for everything you did to make our trip to Israel the very best.
Sincerely,
Claudia and Phil Feldberg
Peabody, Massachusetts
Bat Mitzvah Tour Experience from a child's perspective
Hi Robyn,
First of all, thank you for a truly memorable experience. It was the trip of a life time. Avery completely fell in love with Israel and cannot wait to return. She is currently applying to a local private school and wrote one of her essays about the Bat Mitzvah. It's quite the heart felt essay! We certainly made the right decision in celebrating her Bat Mitzvah with Margaret Morse tours!
Best, Heather
My family has been gifted enough to travel to many amazing places around the world. In all of those destinations I have very fond memories of all of us being together and experiencing the history around us. By far though, my favorite trip out of all those wondrous sights has been Israel. I consider Israel to be my one true home. It may be cheesy but most of the people there have one thing in common with me, our religion. I recently went there over the summer to become a woman, in other words, I had my bat mitzvah there. The reason I can talk about it for hours is because we went on a tour called Margaret Morse Tours. This vacation didn't include my whole family. It was just my mother, my father, and me. My brother was in Israel too but he was in a different program that my temple has connections with while my sister was spending 7 weeks of summer at our favorite sleep away camp, Camp Tel Noar. Back to the story, the tour we were on was mostly for kids who were celebrating their bar or bat mitzvah in Israel so there were so many people who were my age. We traveled all over Israel on a comfortable bus and stayed in many hotels where we hung out together. We went to the Golan Heights where saw smoke from bombings rising over Syria in the distance. We could overlook Saudi Arabia, Jordan, Egypt and the Red Sea in Eilat. Sharing these life altering experiences with all these other kids who were just like me, we grew closer. Over time we became a tight-knit group and stuck together like glue. The two places that I will never forget on my trip were definitely Masada and Petra, Jordan. Many people say that their most memorable place is the Dead Sea. I would say that because the Dead Sea is beautiful and is an otherworldly encounter, but being the adventurous girl I am, I swam out too deep and got salt water in one of my eyes. Trust me, not a good feeling. I could see the Dead Sea from on top of Masada, which incidentally was where I was having my bat mitzvah with a couple other kids from the trip. The top Masada was only 100 degrees Fahrenheit which is considered cool to people who go there often. We learned a lot about the history of Masada and we went inside of some of the old historic buildings. My favorite part though was chanting my Torah portion. It was beautiful and unreal. It went by so fast. I wish I had time to savor it. After that we went to the Dead Sea but we all know how that went. We took the bus back to the hotel which was a couple hours but that was ok with me because the bus was one of my favorite parts of the trip. We sat at the back of the bus playing music as loud as we could while playing card games. I bonded with so many new people and I'm glad to say that I'm still in contact with most of them. A couple days after Masada, a couple of the families went to Petra, my second favorite place. Petra is so rich with history and uniqueness. The Lost City is so unnatural and it looks as if someone took a giant pencil and poked holes in the rocks. There are tiny caves and openings everywhere you look until you get to the canyon. Marble like walls with waves of red, brown, and yellow encircle you. It was 111 degrees outside and shade was scarce so the 0.75 mile walk to the treasury was torturous in the heat. It was all worth it, though. It was an old but majestic sight. The architecture is phenomenal for something built that long ago. The whole wall was carved by hand to create the most wondrous place. The details were incredible and the building looked unrealistic, it felt as if I were in a dream. Whenever I had a question or wanted to know a bit more I would ask our tour guide. He is one of the smartest people I know. He could recall facts from the longest of times ago. The way he talked about the history of every place we went to captivated me and made me want to know more. I was and still am sad that I had to leave such an amazing new world of food, culture, history and people whom I will never forget.
Avery Burke Bat Mitzvah Summer 2017
Swampscott, Massachusetts
Joining Family Tour for the Bar and Bat Mitzvah Celebration
Dear Robyn and Michael:
I wanted to let you know how much we enjoyed being part of the Bar/Bat Mitzvah Tour to Israel conducted by Margaret Morse Tours. My wife and I joined the Tour in Jerusalem, and had three incredible days from August 23rd to August 25th. Our tour guided by David in the Purple Bus was outstanding. The historical and religious dimensions were so informative, and the ceremony on Mount Masada was beyond words. The tour group became a family, and my daughter (Genevieve), her husband (Mark), and their children made such good friends with the families on their bus.
The breakfast buffets were superlative, and the dinner celebrations at the Inbal Hotel were heart-felt, and left everyone with such a warm feeling.
You are to be congratulated for strengthening our ties to Israel, and renewing our sense of Judaism.
Best regards,
Bernie and Linda
Aron / Korman Family
Toronto
August 2017 Family Tour including Eilat and Petra Excursion
Had a wonderful time on the 16 day Bar/Bat Mitzvah tour. Allan was our guide & he did a great job. I wanted to note that we also enjoyed our excursion to Petra; Ali was a great guide and we also liked Petra Magic Restaurant. The food was wonderful and they were sensitive to my kids' tree nut allergies. Indeed, they were so aware of this issue, that the lunch was nut free! And they weren't missed-the food was terrific as is. Again, our family had a wonderful time.
The Rifkin Family
Virginia
SUMMER 2017
Hi Robyn,
I just wanted to write to you to let you know how much we all enjoyed the Bar Mitzvah tour that we just finished. Every one of us had an incredible time! Our guide, Allan, was so knowledgeable and personable and our driver, Akiva, was excellent! We all expected to have a wonderful time, but honestly, it exceeded our expectations. We come back home with much more knowledge about the land of Israel and the Jewish people, new friends and cherished memories.
Allan let us know that we can give our name and phone number in case anyone would like to contact us with questions about the tour. We would be more than happy to recommend your agency and the Bar Mitzvah tour to anyone who needs that extra push.
Thank you again for your helpfulness in arranging our tour.
Best wishes,
The Robayo Family (Alyse, Edison, Gabriel and Ethan) and Lois Pardo
3 GENERATIONS
NEW JERSEY
May 9th 2017 Tour
Hi Wendy, Robyn and Michael,
We just want to say thank you for such an wonderful and amazing trip of Israel we had. Words cannot describe the feeling that has overcome us. From the minute we stepped off the plane and started walking over to the luggage and noticed a young man holding a Margaret Morse sign we couldn't have been more impressed. You see we had to fly in a day early since El Al at LAX canceled our original flight. We figured we would just get our own transportation to the hotel, but you guys took care of that for us and what a wonderful surprise, so thank you for that. From that moment on the trip only got only better. From the wonderful hotels that we stayed in to our wonderful tour guide Alan, who by the way was outstanding and really explained things to me even if I thought my questions were dumb.
We met some really wonderful people and enjoyed Wendy's company so much. By the way I hope she has healed from her injury? She definitely didn't let it slow her down. I go through our picture which my husband took over 1000 of them and its hard to believe that we saw so much history.
Again we just wanted to thank you for making our first and not our last visit to Israel one that we will never forget. We chose your company because both sets of our parents went with you many years ago so I knew that was who I was booking with.
Thank you again,
Sincerely ,
Lori & Jeff Baker
California, May 9th -24th, 2017
Lori and Jeff Baker
Woodland Hills, California
May 9 2017 Tour and their 3rd Margaret Morse Tour
Judy and I just returned from our third Margaret Morse Israel tour. We are definitely a part of the MM family. Our guide Allan, because of his knowledge, spirit and sincerity made this visit as special as our first. We have had tours with David, Ron and Allan and each is wonderful. We have recommended friends to MM and they too rave about their experience. to paraphrase General MacArthur: "WE SHALL RETURN". Judy and Stu Forman
Judy and Stuart Forman
Plainview New York
Singles Meet on our Adults Only Tour
April 8, 2017
Dear Wendy,
Hoping this note finds you well and wishing you and your family a happy and heathy Passover.
It's hard to believe that almost one year has passed since our Israel Trip last May.
We enjoyed ourselves so thoroughly that we often reminisce about the many good times and experiences we shared. When we last saw you, you may recall that Marv and I went our separate ways; me to California and he to New York.
I thought our two weeks were fabulous, but also only a fleeting experience and that our relationship would fade with time and distance.
Boy, did we surprise each other. We are planning to be married on November 12th this year.
We feel that Margaret Morse Tours played a key role in bringing us together and we are truly thankful.
Love,
Rita Goodman and Marvin Wachs
Rita and Marvin ENGAGED
California and New York
Wonderful Wonders March 2017
Dear Wendy, Robyn and Michael,
What a wonderful tour of Israel we had. It was enriching, enlightening and completely enjoyable.
In large measure, it was our tour guide, Allan Marks that deserves the lion's share of praise. His personality, the care, obvious planning, and ability to articulate his profound knowledge of Israel and its history made this a trip of a lifetime for Dotty and me.
We had heard so much from so many people about Margaret Morse Tours that we felt comfortable choosing you. What we now have experienced goes well beyond what we imagined. It has been our deep desire for many years to go to Israel on many levels. We are happy that we did.
This was our first trip to Israel. We wish to profoundly thank Allan and you for going beyond our dreams and enriching our lives. You have guided us to memories we will always hold dear to our hearts.
Have a meaningful and sweet Passover.
Our warmest appreciation.
Howard and Dotty Katz
Howard and Dotty Katz
Sarasota Florida
Bar and Bat Mitzvah December 2016 Tour
Dear Robyn and Michael;
I called and spoke to Robyn on our return as there was just too much to say in a note but here are a few more thoughts. I know this is your business,but the attention to detail and the seamless way the experience unfolded show how much you care about your product and your travelers.
Let me just say what an amazing trip we had. Traveling with our daughter and her family allowed these grandparents to provide shared memories to last a lifetime. Our ten actual days of touring were so packed we did not miss a thing and the many extra touches you provided were so thoughtful and appreciated. No comments would be complete without a big "shout out" to your staff who were ultimately responsible for making the trip such an awesome success.
Our drivers skillfully navigated the often difficult roads and tight parking (ours was Akiva, a gentleman and teddy bear) The.youth counselor Yochai, was so warm and like a pied pier for the kids. Alan our guide, and David as well, funny, passionate, skilled, warm, knowledgeable, articulate,and enthusiastic. I could go on and on, but I'm sure you already know this as all these people have been with you many years.
Thank you does not seem adequate to express our appreciation to you all.
The Oberstein/Reicher Family
Oberstein/Reicher - 3 Generation Family
Melville, New York
Adults Only November 2016 Tour
My parents and my husband and I were fortunate enough to be on the trip in November. We departed on 11/8 and returned on 11/23. I truly wanted to let you know what an AMAZING experience this was. We had never been to Israel before and are so blessed to have had the opportunity to take this trip of a lifetime. Our guide Allen was incredibly knowledgeable about the culture, the sites and everything else from A to Z. Our accommodations were fabulous and we made friendships that will last a lifetime. There were so many magical moments from the toast at the wall of life upon arrival to Jerusalem, to having the opportunity to become a Bat Mitzvah, Masada, Petra, the Jewish quarter just to name a few. So many people since I have returned have asked me to tell them my favorite part and I can't pick a favorite. Every day, every experience and every moment was truly amazing and life changing. I truly hope at some point we are fortunate enough to return for part 2 and hope that Allen can guide us once again. Our driver ShimShun also truly deserves a thank you. He is just a wonderful man…so kind always making sure all got on and off our bus safely and negotiated the very narrow roads with skill and mastery.
Allen asked us to let you know if there was anything we wished to see changed or added. For us the visit to the winery was something we could have done without. We wished we had more time in Tel Aviv and at the Israel Museum but understand there must be time constraints as there is so much to see! Hopefully upon a return trip we will have the opportunity to see both again.
Thank you so much for all the effort that goes into planning this amazing adventure.
Heidi and Barry Krasner
Lindenhurst, Illinois
Adults Only November 2016 Tour
Dear Morse's,
I just returned from Israel last week from your 16 day tour which was an amazing experience.
However, I don't think my time in Israel would have been nearly as good as it was had it not been for your tour guide Allen Marks and driver Shimshon.
Please know, I am the worlds worst passenger. I don't think anyone can drive better then me until now. The driving of such a large bus in the tiny and narrow streets of Israel's cities were maneuvered with the utmost precision. Shimshon never sped or changed lanes without properly signaling and as a result, I truly felt safe. I was also impressed with his demeanor, kindness, sweet personality and helpfulness. He always extended his hand to help his passengers down from the bus and always with a smile, a "thank you and your welcome". I was so appreciative to have this extended to me on my journey throughout Israel.
Now, as for Allen. You have a diamond among pearls. He is by far the most intelligent, knowledgeable, funny and humble person I met in Israel. I told him he could easily narrate on The Jewish History channel. I don't think I could have learned or experienced Israel in the way I did and come away with the knowledge and feelings about Israel had I been with another tour guide. When Allen spoke I was able to feel his passion for Israel. I was overwhelmed with emotion (in a good way) at many of our stops and I owe it to Allen who was able to have me touch my inner soul, my heritage.
I hope to be able to someday return to Israel and hopefully I will be able to do it again with Allen and Shimshon.
On a second note, there were some things I wish we had more time for. Perhaps the next time around.
Until then, I remain,
Very sincerely yours,
A very happy Margaret Morse Traveler
Judith Cain
Pompano Beach, Florida
Adults Only September 2016 Tour
Just a short note from David and myself to thank-you for arranging the most memorable tour we have ever experienced. Although I was hesitant about visiting Israel, my fears were alleviated immediately upon arrival.
David our tour guide was extremely knowledgeable and shared his passion for Israel with us.
Everything from the five star hotels, to the delicious meals, just added to our wonderful experience.
Having just retired, we decided this was the perfect opportunity to plan this trip. Margaret Morse came highly recommended and we know we made the right decision. We would highly recommend you without any reservations.
Again thank-you for all the little extras you do to make sure we were comfortable, safe, and had the time of our life!
Sincerely,
Susan and David Brown
Freehold, New Jersey
Adults Only September 2016 Tour
Michael and Robyn,
I just wanted to drop you both a note to tell you what an unbelievable time Lori and I had on our recent trip to Israel. Allen is a fantastic guide and we learned so much from him. We also appreciated how Margaret Morse tours handled so many little details to make this trip so enjoyable. I would certainly recommend the Margaret Morse tour to anyone traveling to Israel. As a side benefit, we made friends with several couples that we expect will become lifetime friends. It is rare that one can say that everything worked out "just right", but it certainly did on this trip. If you ever need a reference, I am your guy!
La Shana Tova to both of you.
David Liner
David and Lori Liner
Lakewood Ranch, Florida
Bar and Bat Mitzvah Tour August 2016
Dear Robyn, Wendy, and Michael,
Just wanted to follow up on my effusive call following our return from Israel last month.
Thank you many times over for giving our family an experience of a lifetime! Being on your trip and having our sons be part of the B'nai Mitzvah on Masada are memories we will treasure forever!
We did not initially choose your trip. For years, we had planned to go on our temple family trip. When that trip was cancelled, we were quite upset and disappointed, and I started calling various Israel tour companies and asking a barrage of questions, such as "what makes your trip different/special/unique/memorable."
Other companies highlighted their deluxe buses. That they stayed at the Waldorf. That they flew to Eilat.
I called MM and spoke with Michael, who patiently answered all of my questions and shared about the special Margaret Morse experience - highlighting joint and separate activities for adults/kids, the youth counselors, the "no single nights" in any city (which became far more significant after packing/unpacking a few times), the family focus, and more. As important as the content of what Michael said was the fact that he seemed genuinely interested in talking with me and learning what we sought in a trip. One company rep said "give me your address and we'll send you info" - and ended the call afterwards. Two other companies said: "go to our website - all the info's there."
I made my husband call - and he, too, had the same experience. Then I had my in-laws call - ditto. Michael answered our many questions and put us at ease regarding choosing Margaret Morse for the biggest and most significant family trip we've ever had.
And things got even better from there. It was a delight to meet and spend time with Allan and Bruce- the best tour guides ever. My husband and I have both spent time in Israel and were concerned the trip might be a re-hash of our teen and subsequent trips. Not a chance! Every place we went, we learned new things. We were on Bruce's bus and were so amazed by his knowledge, passion, kindness, and genuine Ruach -- despite the long hours on the bus, the 100+ degree heat, and the active and noisy kids.
We were touched that Bruce and Allan, and the youth counselors Jonathan and Mattan, went above and beyond to ensure that all of us had an incredible experience. My two boys can be challenging - and early on Bruce and Allan recognized that one might need special attention. They asked Jonathan to spend time with him -and it made a huge difference. And Jonathan helped him integrate with the other kids.
With every best wish to you and yours for a Happy and Healthy 5777 and beyond!
Miriam Kleiman
The Steinbaum/Kleiman Family
McLean, Virginia
Adults Only Tours 2016
I can't thank Margaret Morse Tours enough for the life changing experience I had with the tour. Literally, life changing.
And I'm sure you get this all the time... but Alan is worth his weight in gold. He made every location come to life with his breadth of knowledge, not to mention his humor. He's a keeper, no doubt.
Thank you again,
Brian and Suzanne Unterberger
Westerly, Rhode Island
Trip to Israel from 6/28/16 to 7/13/16 celebrating our twin grandson's B'nai Bar Mitzvah
My wife and I want to tell that our recent trip to Israel to celebrate our grandsons' Ethan and Ben B'nai Bar Mitzvah was absolutely fabulous. No words can truly describe the beautiful range of emotions we experienced throughout the entire trip. The pride of participating in our grandsons being called to the Torah. The fantastic and fun-filled party that followed later in the evening is another highlight,among countless others that will never be forgotten. We also will always treasure the excitement of kayaking down the Jordan River, the off road jeep experience up to the Golan Heights talking to the Israeli soldiers at their army base and so many others. At the same time there were moments of reflection including praying at the Western Wall and visiting Yad Vashem. One of the most emotional moments for us was standing in a circle on a hilltop overlooking Jerusalem with our amazing tour guide-Alan- saying Kiddish and thanking G-d for allowing us to share this beautiful time with our grandsons. We were all crying and will never forget this experience. We have traveled to many places around the world This trip far surpasses anything we have experienced preciously. It is in league all by itself Thank you Margaret Morse Tours for a trip that will always bring a smile to our face and for an experience we will never forget.

J & R Scher
Bar Mitzvah Tour 2016
Hi Robin, I just wanted to drop you an e-mail upon return from what was an absolutely INCREDIBLE trip this BM tour was. Your companies attention to detail was fabulous all the way down to the unexpected gifts for the BM kids and their siblings. My family was part of the Yellow bus that was driven by Simshon, who was as nice and helpful as anyone we encountered, and captained by an AMAZING tour guide in Bruce, whose knowledge and passion has to be unmatched. We really thought the way you divided the 2 BM buses into age groups, with the BM kids with older siblings on one bus and the younger siblings on the other was brilliant. It allowed my older son to forge some friendships with the other siblings that i think will last a lifetime and my BM son made some great friends as well. FYI, the families on that yellow bus made some incredible bonds and friendships and we all hated to say goodbye on that final evening. The entire tour was phenomenal and the decision to change the Dead Sea locale was excellent as that hotel facility at the dead sea was outstanding!! Well i could go on for pages about all the details but suffice to say that the ENTIRE tour was PERFECT and I thank you for making my sons Bar Mitzvah the most amazing 2 week experience my family has ever had. Be assured that I will recommend you and your company to anyone who asks us about Israel BM tours in the future.

Thanks again for an AMAZING experience!!

The Greenberg Family
Hi Michael,
We wanted to let you know that your Israeli tour–Oct 20 -Nov 4th, 2015, was spectacular!!!!
Our tour guide Yishai Avital was truly outstanding. He brings a passion concerning Israel that only a Sabra can bring. His knowledge of biblical references as they applied to historical sites was unbelievable. His ability to make us part of the historical events that occurred millennia ago was beyond the pale.
Thanks again for a wonderful experience.
R & S Orlando
Chestnut Ridge, NY
Dear Wendy,
We want to thank you for the trip of a lifetime October 5, 2015. We will never forget what you did for us. We haven't stopped raving about our experience and will spread the word about Margaret Morse Tours. Hope to see you in Florida this winter. Stay happy and healthy.
S & K Greene
Dix Hills, NY
We had the most amazing vacation/tour October 2015 with Margaret Morse Tours. First class!!!! It was enriching and certainly a memorable experience. Thank you for making our tour the best!!
S & A Palter
Boynton Beach, FL
I'm writing to let you know what a fabulous time my family had on our recent Bar Mitzvah tour with you. Every detail was handled beautifully so we didn't have to worry about anything. Our guide Bruce was fabulous. He was aware that with children on the trip he had to handle all the information he was giving us in a way where he wouldn't lose the children's interest. Not always an easy task. Alan was incredible at Yad Vashem , speaking to the children in a way they'll never forget, and although they all cried after his speech, it was a sadness they needed to feel. The trip combined education and fun for everyone. The rabbi was terrific with the kids, and ran a lovely service. The party was perfect, from the candle lighting, to the dancing and fun everyone had, and to the lovely rings you gave to all the children. The counsellors on the trip were amazing. During free time, they provided fun for everyone, and helped the kids get to know each other. They were really special young men! I could go on and on, but I won't. Thanks to your tour for giving us a trip of a lifetime.
Fondly,
R. & G Varadi
Wanaque, NJ
Hi Robyn,
Just wanted to thank you for making my family Bar Mitzvah tour so special. I compliment you on the way the "teenagers" were kept busy to the comfort that we "grandparents" felt while waiting for the younger group to complete their "hike" during the heat wave. The sites you chose, the gifts you gave, the guide David, and Akiva were all fantastic.
I hope that someday you will have the pleasure of having 4 generations of your family together to celebrate such a "simcha".
Sincerely,
B. Levine
Wayne, NJ
Hi Robyn!
I just wanted to send you a quick note to say thank you!
The way you arranged the room for my family was perfect in each hotel and I'm sure it is not an easy task given the number of people on the tour. We were so appreciative.
We had such a wonderful trip and have so many wonderful memories to last us a lifetime! My kids haven't stopped talking about the trip (especially Akiva.) With that said I just want you to know how kind and caring he was to us in regard to our kids. Not only did he open and close the bottom of the bus a billion times for us, but he always offered to help, have the kids stay with him, etc. He is truly a wonderful person! I'm sure you know this but just had to pass it on! This picture captures his kindness!
J & R REISS
Clarksville, MD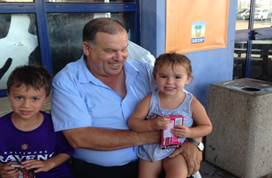 I just wanted to let you know that we had such an amazing time on your tour.
It was perfect from beginning to the end. Satisfying (2) 13 year old boys , (1) 15 year old girl, and their father, is never an easy task for a prolonged period of time.
Everyone was thrilled with the tour.
There were so many exciting new things for the kids to do every day, our days were packed with surprises every step of the way.
Alan was beyond entertaining and crazy informative.
You promised it would be beyond my expectations, and it truly was.
If you ever need a personal reference for any potential customers, please do not hesitate to have them call me. It would be my pleasure to refer you to anyone interested in going to Israel
Thanks again for making this once in a lifetime experience such a wonderful unforgettable memory.
L & D TERKIEL
Delray Beach, FL
We had the pleasure of going on the Israel-Petra, Jordan Tour with Margaret Morse Tours from May 5 through May 20, 2015. My husband and I prepared for our trip speaking to Robyn and Michael Morse. Every question we had was answered politely and intelligently and we were never left feeling that we were annoying anyone. Robyn put me in touch with Sally with El Al Airlines and the reservations were easily made and for a ten hour flight-we upgraded to more comfortable seats with no difficulty. We landed early in the morning on May 6th but Robyn had prepared us for the fact that the room may be ready before 3:00 PM. Fortunately there was a room available early in the morning and we were able to take a much needed nap. All the hotels were 5-Star and beautiful. And what we felt was very thoughtful and beneficial to us was the fact that Wendy Morse was on the complete tour. Any questions I had, Wendy was very accommodating and patient. At one point, I was looking at gifts for my son at the Dan Carmel and I asked Wendy for her thoughts and she hit it on the head and I totally agreed with her. We spent 5 wonderful days in Jerusalem and Wendy did not have to escort us to the shuk and then to Ben Yehuda Street but it certainly was a terrific favor to our group. Since none of us was familiar with the landscape, it gave us more time to browse and shop on our own. The 2 evenings we had sit-down dinners and entertainment were delightful. The band played extremely well and Wendy was an excellent Mistress of Ceremony and she was a great dance teacher. She exuded warmth and we all felt inclusive and happy. Our Tour Guide Bruce was excellent. His knowledge of Israel was extensive and he imparted knowledge professionally and thoroughly. He kept us constantly informed and answered every question we had. We chose well with Margaret Morse Tours.
Yours truly,
B & D Kristol
Aberdeen, NJ
REVISITOR TOUR – May 2015
I am corresponding to tell you how pleased we were that you guided us on our recent Margaret Morse repeaters tour of Israel. Israel is a modern country with a 5000 year history that came alive through your discussions, anecdotes and facts (whether actual or by your own impish admission, contrived). You have the special ability to make data interesting and the greater gift of knowing when enough is enough. You interacted with our group and made each member feel a relationship with Eretz Yisroal. We look forward to visiting Israel again, possibly in two years for the Bar Mitzvah of our eleven year old grandson. We will speak with our children and confer with Wendy because we feel like a part of the Margaret Morse family. Once again, thank you for making our visit special.
Fondly,
S & J Forman
Plainview, NY
Dear Robyn, Michael, and Wendy,
My wife and I were on the October 28th tour. We have been home a month and I am just now coming down from the unbelievable high of experiencing Israel. I want to thank each of you for your part in making our trip all that we hoped it would be.
Robyn: From our first contact you made me feel comfortable. No matter how many questions I had you were patient and unhurried, as if you had been looking forward to my call.
Michael: You too answered questions and provided guidance in our pre-trip planning. But most of all on the day of departure when our flight to New York was delayed at PBI and making the El Al connection at JFK was very much in question, I reached out to you and you were great. You calmed down this novice traveler, assured me that even if we missed the connection you would get us to Tel Aviv without missing any of the tour. You gave me your personal cell phone number and remained involved and in touch long after the business day ended. As it turned out, we made the El Al flight, but that does not diminish the high level of care, concern, and professionalism, from which my wife and I benefitted that day.
Wendy: How do you make people feel like old friends from the moment you meet them? I am sure your presence, the unassuming way you shared some of your experiences with us, told us about Margaret, contributed to our group
bonding very quickly. Early in the trip (we were still in Tel Aviv) some of us were talking about what we had seen that day, you said, "It only gets better." You were sooo right!
As the tour progressed and each day brought new sights, with insight and context provided by our incredible guide building upon what we had seen previously, it became clear that many hours of thinking and planning precede the actual organization of the tours. The fact that it all came together can be no accident. I believe Margaret Morse Tours is a truly remarkable organization made better because it is family.
Most Sincerely,
R & G Kinberg
Boynton Beach, FL
Dear Robyn and Michael,
I know Wendy is still in Israel but I wanted to tell you what an amazing time my mother and I had on the Oct 14-29 Trip to Israel. Allan was as incredible as I remember from taking the Bat Mitzvah tour in Dec of 1998. I knew that touring with Margaret Morse was the only way my mother should experience Israel for the first and probably only time in her life. It was so well organized, we had such a wonderful group of people on our tour and perfect weather. It was so nice having Wendy and Abe with us. I have given your name to a few our friends that will be calling for information.
Thanks again for such a memorable experience and I will be putting up wonderful reviews on social media also.
F. Cohen
M. Hoffman
Lafayette Hill, PA
Hi Robyn,
We've been jetlagged for a few days now and have been wanting to communicate with you about our incredibly amazing experience in Israel (honestly, haven't stopped thinking about it and wishing we were still there). We're thrilled beyond words that we were able to rearrange our flights and get to Israel after all. From the moment we arrived at Ben-Gurion until our departure, everything was exceptional: from the choice of places visited and overall organization, to the accommodations and meals (missing those too :)) the transportation with a smile. We are also convinced that our tour guide, Allan Marks, is the absolute best: we were so impressed with his outstanding knowledge of all things 'Israel' (and his fantastic sense of humor), as well as how he made the trip both fun and meaningful with heartfelt messages for the children at pivotal moments – such as when we first entered Jerusalem, at the Kotel, and at our last group dinner. The Bar and Bat Mitzvah morning ceremony at Masada was so beautiful and Rabbi Tucker's leadership there made it even more special. I also want to mention that the kids greatly enjoyed interacting with each other and with Mattan, their counselor throughout the trip. We have been enthusiastically sharing our unforgettable journey with Margaret Morse Tours, and will continue to do so.
Our heartfelt compliments and appreciation,
the Alvarez-Levey Family
Miami, FL
August 7, 2014
Dear Wendy & The Morse Family,
My mother and I were (Purple Bus) participants on the May 2014 trip to Israel. Just a belated note to say what a wonderful trip it was and that is was a pleasure for us to meet you. The itinerary was excellent, the hotels were wonderful, our guides were nothing short of superb and the trip operated like clockwork. . Hard to imagine a better experience. As an extra added bonus, we have family in Givatayim, so we were able to visit with them both before and after our trip.
One of the things I enjoy about traveling is purchasing hand-made crafts made with local materials. However, shops commonly sell lovely, but factory made items and chances are that I can find them in a shop here in New York City. In that vein, thank you so much for gifting to us a beautiful hand-made, with local materials, Mezuzah, which was so special.
This joyous experience was just weeks ago and needless to say, things have changed dramatically in such a short period of time. Our hearts ache for our immediate family, the people of Israel and for the Margaret Morse family – running trips to Israel at this time must be challenging.
So in addition to saying thank you for a promised – and delivered – "Lifetime of Memories," we ask you to forward this email to our guides, Bruce, Alan and David. While Bruce was our guide, we enjoyed our interactions with Alan and David, too. We hope they and their families are well and are coping with this latest round of hostilities. Our deepest wish is that the hostilities will soon end and the parties can once and for all come to some kind of resolution so that all can live in peace and thrive. As Bruce said, "We live in a tough neighborhood," so we know how elusive our deepest wish is. But we always have to hope…
With gratitude,
H. Cooper and H. Sternbach
NY, NY
Wendy…..we told you during our recent trip to Israel with Margaret Morse that the tour far exceeded our expectations. The camaraderie, the friendliness of the tour guides, your presence, the events, the sites we visited, were all outstanding and made the trip one of the most memorable times in our lives. Maxine and I had believed this was our 2nd and last trip to Israel, however, the experiences that MM and David exposed us to most certainly made us rethink this and we are already talking about returning very soon either on a MM bat mitzvah trip with our granddaughters and grandsons or a 2nd timers trip. We came away with a stronger feeling for Israel and its people…our people. And a better understanding of the history of our people. We are more Jewish because of Margaret Morse……thank you.
Fondly…..M & D Paris,
Delray Beach, FL and Beach Haven, NJ
What to say? Emotional, Informative, Spiritual, Beautiful … I can't say enough. I know there are others who think and/or wrote the same things. However, I speak for myself and most likely for my wife.
Whew … I know MM Tours is a commercial entity and a "for profit" business. However, you guys tugged at my heartstrings and if we hadn't paid for the trip I would have thought this was a "family visit."
Our guide David Leshnick, services by Alan (red bus guide), the heart of Israel – listening to dedicated people who are true Isarelis' … a total emotional, eye opening, spiritual and informative tour. I cannot say enough about Israel and the Margaret Morse experience.
I am ready to go back for a second tour and will not go with anyone other than MM Tours. By the way – Wendy you are a "trip."
I have run out of time for now … but for whatever the cost was … I would pay twice as much! As a non-religious Jew, I feel my home is in Israel – and I guess that is what it is all about.
Thank you, thank you, thank you …
L & L Bazarnik
Wellington, FL
"Dear Wendy,
Just 2 weeks ago today, I was celebrating Shabbat in the Great Synagogue in Jerusalem. That, along with all the other sights we explored and visited, helped to shape my forever love of Israel. It truly inspired, awed, and made me proud of the land and the committment of the people to their country. Margaret Morse Tours was over-the-top amazing! It far exceeded my expectations in every way. Our guide David was the glue that put everything into perspective for me. He was so passionate, witty, knowledgeable, patient, and inspiring. I have shared the experience and pictures with my family and friends, but nothing can match the wonder of living the dream. Thank you for helping me to achieve "memories of a lifetime"."
Shalom,
H & J Solomon
Riverton, NJ
Visited 2012
P.S. My heart is heavy with the news of what's happening in Gaza. We pray for a quick and lasting peace.
"Dear Wendy and all the crew at MM ; I am writing this note to wish all good health and safety in light of the perilous affairs that transpiring in our State of Israel. After our trip we feel the anguish even stronger knowing that the people of Israel are in harms way. The trip we took with you was one of the greatest experiences of our life. We did not go to Israel but rather went into Israel to experience as much as possible the uniqueness of the people and nation. We also felt part of that thanks to the scholarly teachings and great personality of our guide David. The social events and camaraderie made us feel like one big family . As soon as we came home we felt like we want to go back and savor that feeling again. Thank you for your caring and helping us connect with Israel. That connection is now stronger than ever."
R & F Levy
Visited 2012
"Margaret Morse Tours..all the rest are second best."
My wife and I just returned from Israel where we experienced a 16-day Margaret Morse tour. After browsing the 'net for several weeks, we finally decided on Margaret Morse. We had no before-hand knowledge of this company, but it just seemed to cover more than anyone else. Frankly, it was spectacular. Not only did we cover most of the historical sites in the Holy Land, (How could we. It would take months to years to cover it all), but we were in the company of the most knowledgeable guide we have ever encountered. His name is David, and he and our driver, Shimshon, made sure we understood the history, background and relevance of every stop along the way. From Tel Aviv, to Haifa, to a kibbutz in the Galilee, to Jerusalem of Gold to Eilat, we didn't miss a thing. Long days, but worth it in terms of the total immersion into daily life in Israel, along with the history lessons. In it's brochures, Margaret Morse Tours lays out the itinerary, interspersed with teasers about "extras" during the trip. And extras, there were. From dinner dances, to cocktail parties, to meaningful gifts, we were made to feel welcome at every turn. Not on the itinerary, was a visit to a lovely little synagogue in Jerusalem, where my wife, and almost everyone on the bus, became Bat or Bar Mitzvah. A lot of emotion on that afternoon. As an American Jew, I thought I had a pretty good handle on the why's and wherefore's of Israel. But I learned much more in the two weeks we were there. If you are considering a tour to Israel, you simply cannot do better than Margaret Morse. I'm not sure if ownership accompanies every tour, but Wendy Morse was with us for the entire trip, and her anecdotes about her mother, who founded the company, were priceless. The Western Wall? Done. Dip a toe in the Dead Sea? Done. Boat ride on the Sea of Galilee? Done. Masada? Done. And on and on. Rest up. You will do a lot of walking. But you won't miss a thing. Fresh batteries and at least a two gig memory card in the camera are a must. You will come home with memories that will last a lifetime. And no, I'm not related to the owner, but if she were my sister, I'd be darned proud of her.
J & M Reisterstown, MD
Visited October 2012
SUMMER 2012
"Dear Robyn, Michael, and the Margaret Morse Team,
We just got back last week and we cannot express in words the magnificent experience our family enjoyed in Israel for our daughter's Bat Mitzvah tour. This has been a life changing experience for all of us. There are so many parts of the tour that made it memorable starting with the people. The people we met on our tour, particularly on our bus since we spent most of our time with them, were just amazing. We have three children, 12,10,7, and you made sure to place other families on our bus with children who had similar ages as ours. We can truly say that all of us have made lifelong friends from this trip.
The tour guide we had (Bruce) was remarkable. His immense knowledge and ability to present the information in a way where we hung on his every word is a testament to his years of experience. He always kept us attentive at all the tour sites and nothing he said was ever a bore. He was wonderful with the kids and had many stories beyond just laying out the facts in all the historical places we toured through. We absolutely loved having Bruce as our guide. And though we only had limited interaction with the other two guides on a few of the days, Allan and David, they were also fantastic in their own unique ways.
The food setups at the hotels for Breakfast and Dinner were spectacular. There were ample choices of the highest quality foods , not only local foods but also mainstream dishes as well. We were all extremely satisfied as we ate like "fill in your favorite overeating animal" for two weeks!
The transition from one hotel to the next was as seamless as it could possibly be. As instructed, we would leave our bags outside our room either the night before or morning of departure and the bags would already be in our next hotel room ready for us when we arrived at our next hotel. This part of the trip was especially essential when the last thing one wants to worry about is your luggage and personal belongings. It was extremely convenient not having to worry about moving one's luggage from hotel to hotel as Margaret Morse Tours took care of that.
Among the many other parts of the trip, the Bar/Bat Mitzvah morning at Masada was spectacular. The ceremony was simple yet beautiful with breathtaking backdrops of the desert. It was truly an emotional experience that would dwarf any ceremony/party that lots of us are accustomed to back home. The Bar/Bat Mitzvah celebration party at night was perfect. All the people from the tour were dancing and enjoying themselves as if they had been lifelong friends, all sharing one special common bond of a family member being bar/bat mitvahed. The kids were nonstop dancing and singing until the party ended and frankly none of us wanted it to end as well. It was a fantastic night to an already spectacular trip with many days yet to come.
Thank you for the many little surprises and gifts that added a warm feeling to an already over the top tour. A special thanks to both Robyn and Michael (who was personally on our tour and made sure that everyone's needs were always taken care of) in making sure that everything from beginning to end was prepared flawlessly. And to Bruce for being the best guide we have ever had! And to Akiva for driving us around Israel smoothly and safely, thank you! And to the three counselors, Yohai, Mattan, and Yuval for their energy in entertaining all the children in the evenings after dinners, on the buses, as well as livening up the dance floor on many nights to encourage all of us to dance and for the pool chicken fights we all had so much fun at. They provided a summer camp feeling (even for the adults). My son misses them a lot!
As we left on our final day, we were all very sad that our two week journey was ending. Many tears were shed as friends whom we had just become close to were all going back to their respective cities. The happy moments we shared with each other whether over a meal or on the bus or simply walking in the hot Israeli heat made this an unforgettable experience we will always remember. Our appreciation for our country, our religion, and who we are as Jews has definitely grown with this experience.

Our expectations for this experience were far exceeded! I could go on and on about our experience but the only way to really understand and grasp it would be to actually do it. The feeling of jewishness we have absorbed through this experience is priceless. This was a five star experience from beginning to end and would recommend it to every family. I used the word experience many times because saying it was a trip or tour is just not describing it appropriately. The only way to do a Bar/Bat Mitzvah is in Israel with Margaret Morse Tours. On behalf of my wife Jenny, and my three children, Alexa (12), Allison (10), and Jason (7), we want to say thank you, thank you, thank you for a once in a lifetime experience. My daughter Allison is already talking about doing her Bat Mitzvah there in 2014! Feel free to share this with any family who would like a little insight into our memorable experience. "
Warmest Regards,
The Benezra Family
Aventura Florida
"Dear Wendy, Robyn and Michael,
We've been home from our trip for 3 days and are still reeling from it!!! It was soooo far beyond what we ever expected. For us–it was truly a trip of a lifetime. It was emotional, awe inspiring, historical and truly life-changing.
We are the grandparents of Leo, Emily and Molly Ross and sharing this with our family was the icing on the cake.
Your tour left no stone unturned—from the questions that Wendy and Robyn answered so kindly before the trip, to Michael being with us on the tour–to the actual daily planning which was so well thought out—and finally, the outstanding tour guides who were brilliant, informative, warm, terrific with children and adults, and filled with answers to just about any question. Although, David was our guide( who we adore), we got to know all the guides as well as you, Michael. We really felt like were were part of a giant family and this made our goodbye's very very sad.
Not only did all the adults rave about the tour, but the children had the time of their lives—not to mention your thoughtful gifts for everyone.
We had been told by many friends ( some past MMorsers) that we were in for a real treat, BUT, in our wildest dreams, we never imagined feeling the way we did and enjoying 16 days so so much.
We would like to thank all of you, including the guides, for making our first trip to Israel the best trip were have ever taken in our 47 years of marriage—and we have taken many many trips!!! We will cherish the memories we will have forever from this trip.
Fondly,
Beth and Bruce Smith
We realized we left the counselors out and they we fantastic–they knew each child well and were delightful to the adults too—in fact we would love to have them visit us."
Lake Worth Florida & Fair Haven New Jersey
"Our Bar Mitzvah trip with our grandson was outstanding. This is our second trip with Margaret Morse and we all loved it. The facilities, tours, guides and tour guides were 1st class. Wendy and Michael were just great. The most important aspect was how all the kids connected with their heritage. The trip put in them a strong feeling of belonging to our wonderful Jewish nation. I hope we can do it again with the rest of our grandchildren. Thanks for everything."
Odette and Jacob Cohen
Baltimore, Maryland
"Just a note to let you know that we were extremely happy with the Margaret Morse Tour to Israel. One of our wonderful experiences was the Bat Mitzvah of our granddaugher, Mara, at Masada. This was our third trip to Israel and, by far, the best. Our tour guide, Allen, and our driver, Moshe, were outstanding in their knowledge, presentation, and helpful in every aspect of our journey. We are planning to return to Israel in four years to Bat Mitzvah two of our grandchildren."
Best regards,
Enid and Art Stecker
North Easton, Massachusetts
"Find you inner Jew!"
I must admit for full disclosure that prior to our trip this summer to Eretz Israel with Margaret Morse, the idea of traveling for 16 days with strangers was about as appealing to me as pulling weeds. My wife insisted that this would be the best way for our family to experience Israel for the first time. I had my doubts!
Our trip got off to an ominous beginning as we were stuck on an El Al flight with what can only be described as a full gaggle of teenagers. I am not sure any of them got a wink of sleep on the flight. They kept us entertained from take off to landing.
Upon arriving in Tel Aviv, the Margaret Morse (MM) magic began. They met us at the airport and transport to a wonderful hotel was seamless. In fact, all aspects of our travel within Israel were effortless as a result of the MM organization. The dinners and breakfast were plentiful, delicious and included wonderful regional options so that we could get a feel for Israeli cuisine. Our tour guides always set us up with great options for lunches as well.
Speaking of the tour guides, David, Bruce and Alan were remarkable. Their knowledge of the history, geography and culture of Israel was mind blowing. They helped make Israel feel like home. Include in the tour were three Israeli youth counselors. Yohai, Mattan and Yuval (it was Yuval's first tour, although you would NEVER have guessed it), made Israel feel like home for the kids. What the tour guides meant to the adults, the youth counselors meant to the kids. In fact, my son and daughter left Israel having made a deeper connection with them and the other kids on our tour then they have in the States with many of their best friend. MM helped create/foster that feeling of family and community.
Every aspect of our experience in Israel with MM exceeded my expectations. Their were many surprises (I don't want to run the fun for anyone thinking about using MM) along the way that added to our amazing adventures!
Thank you to MM for proving my wife right. It was an apology I gave both willingly and happily. She was correct. It was the best way to experience Israel for the first time!
Columbia, Maryland
SPRING ADULTS ONLY TOURS 2012
"To all responsible for the most fabulous time ever,
It is almost two weeks since we came home and we still can't stop talking about it. We had the best working vacation of our lives and it was not just Israel, it was all of you who made this trip real special. It all started with Michael and Robin who put up with all the crazy phone calls we made before we even left Florida. Then we had some airline problems which became fun in the end anyway. Then after our arrival we met the man of the day, our guide Bruce. We know all the guides are great but we have to tell you Bruce was the greatest. His commentary, his straightforwardness, his honesty and his knowledge were outstanding. Then to have Wendy ride along with us was the icing on the cake. She is so vibrant and full of life and with such a warm loving heart. We could go on all day but the proof is that I am recommending her to everyone. Thank you so much for a true fulfilling experience we will never forget."
Adria and Arnie Dansky
Boynton Beach, Florida
"When we decided to go to Israel, we only called one tour company- Margaret Morse. For years, anyone I spoke with who went with them had only wonderful things to say; so why should I shop? Our experience was incredible. Every aspect of the trip was handled with professionalism and you in mind. Our guide was a master historian and story teller. He made Israel's history come alive as we visited each site. Our hotels were first rate and the meals were representative of Israel and wonderful. We had dinner dances and cocktail parties a few nights a week. Wendy Morse was on the trip with us and was so caring and attentive to our needs. She added an aspect of fun as she mingled with her tour members. Everywhere we went, we saw signs displayed welcoming Margaret Morse Tours. We learned that Margaret Morse Tours isn't just a tour company, but an asset to Israel for its donations to Israeli charities- it's a company that gives back and has through it's many years, built a positive chain between America and Israel. So don't shop. Make your Israeli trip the trip of a lifetime with Margaret Morse."
Monroe Township, New Jersey
"To All,
We just want to express our feelings to All of You and Especially Wendy. This trip was fantastic, exciting, wonderful and the BEST trip I have been on so far. There was nothing spared for our comfort,happiness and anything else we needed. Margaret Morse Tours really knows how to make someone enjoy every day of the trip. I cannot stop talking about all the places,people,things we did. Every day was so special and we thought that was enough, however the next day was better. Everything was done for us and we never had to spend an extra sheckel (or penny). You really know how to make a traveler comfortable. Thanks again for a fabulous experience in Israel,
J. D. & M. S. Tamarac, Florida
2011 TOURS TO ISRAEL
November 16, 2011
To all of you at Margaret Morse Tours, thank you so much for making our trip to Israel so very special. We came back this morning and are bubbling with wonderful thoughts.
Michael, Robyn, and Lauren – you made us feel welcome before we left – patiently answering our many questions.
Wendy, you and Alan were spectacular, Alan more then lived up to his reputation – he is the best tour guide we have ever had, he has a very interesting way of conveying detailed information and a love of Israel, with a wonderful sense of humor. As far as the heed of the organization, Wendy, you seem to have it all; beauty, intellect, smart business sense, warmth , and s great personality – we fell in love with you. All the surprises and many gifts made us feel great and certainly ads to the uniqueness of Margaret Morse Tours. The song, "Little Things Mean a lot" comes to mind,
Again many thanks to all of you for making Israel truly shine,
All the best,
Ralph and Susan Straus
Dear Wendy, Robyn and Michael,
Penny and I have had the privilege of participating in three Margaret Morse Tours to Israel. All of them have been unique and exceedingly gratifying. As a retired rabbi who founded and served his congregation for 37 years, I have participated in or led 8 tours to israel.
For the last three missions to Israel, I chose Margaret Morse Tours. The quality of the tour is always outstanding. The extras, such as special gifts, wonderful dinner dances and our outstanding guide, David Leshnick, added to the magnificent splendor and awe that is the State of Israel. Every tour is exceptional in planning and performance.
On our most recent tour, during which we celebrated the moment in which our granddaughter Samantha became a Bat Mitzvah on the top of Masada on a cold winter and rainy day in December, there was an all embracing warmth and reverence and joy that only Margaret Morse Tours could possibly provide.
Being taught Israeli dances and sharing in Wendy Morse's love and exuberance at our nightly dinners together added a special and spirited as well as a spiritual dimension to approximately 100 people's lives who first met each other on this journey to Israel. Wendy and the entire staff became the "glue" that brought all of us together as one family.
For years in South Florida, I've heard from those who have gone on Margaret Morse tours tell me, "you've never really experienced Israel until you've gone with Margaret Morse." It's true.
From our wake up call in the morning until the end of each day, their
was a learning and awe inspiring experience that I shall forever cherish.
As an archeologist might say" no stone was left unturned" on our Margaret Morse journey to our precious State of Israel.
Would we go again? In a heartbeat!
Thanks to the Margaret Morse family for enriching and enhancing the lives of my children, grandchildren, and family. nothing at all can replicate the extraordinary tour we've enjoyed.
With enormous appreciation,
Rabbi Robert P. Frazin D.D.
Founding Rabbi Emeritus of Temple Solel, Hollywood ,Florida
A member of the Board of Regents of the Hebrew University of Jerusalem
Vice President of the Southeast Region of American Friends of Magen Daveed Adom
– Jan 11, 2011
Dear Robyn,
Now that I have returned from Israel and our other stops throughout July, I do not want another moment to go by without extending to you my sincerest appreciation for all you did to make our 2010 congregational trip to Israel the extraordinary success it was! In every way, Robyn, I could not have been more pleased! All the arrangements went smoothly and I always felt we were in the best of hands. Of course, Allan Marks was superb as always, and he is a great credit to Margaret Morse Tours. But guiding a trip is the culmination of months of day-to-day planning and hand-holding, and you and your wonderful staff excelled in a way that few agencies can and do.
Thank you so very much, Robyn! It was a genuine pleasure working with you and I look forward to planning our next congregational trip to Israel in 2012.
All my best wishes,
David Rosen
Houston, Texas – Aug 20, 2010
______________________
Rabbi David Rosen
Senior Rabbi
Congregation Beth Yeshurun
www.bethyeshurun.org
To: Robyn and Michael
It is difficult to put into words the incredible Journey we just took through Israel. I have been to this beautiful Country twice before, but this was by far the best, most comprehensive, wonderful, exciting tour.
A year ago, my son Craig and his wife, Lisa, invited their parents to join them on a trip to Israel. Craig assigned me the job to find the best, inclusive tour and this was a big challenge as there are many who describe themselves as the best. Recommendations from friends and internet research led me to believe MM Tours was the best and I wanted the best experience for my children.
The five of us felt this trip was more than our expectations from the very first day to the last. Each day was a new experience and adventure with our tour guide, Bruce. His knowledge and love for the country, his personal caring, his enthusiasm, his attention to every detail, and his sense of humor was outstanding, not to mention his patience and always with a smile.
We know the Country is beautiful and changing every day, but our guide made Israel come alive with new places to see, breathtaking landscapes, new excavations, as well as educational ancient history. I would be remiss not to mention the special events, gala parties with live bands, and gifts to cherish from Margaret Morse. Wendy, with her great sense of humor shared stories about her mother and through her eyes we could see that Margaret was a remarkable woman and laid the foundation of this remarkable company.
One among many of the highlights she innovated, was the Bar/Bat Mitzvah ceremony on Mount Scopus. It took place at the end the day after visiting the Western Wall and walking through the restored Jewish Quarter of the Old City. Around 50 women and a few men were called to the Torah by the Rabbi, calling us by our Hebrew name, wrapped the Tallit around us and we recited the verses of the 48th. Psalm. This was an inspiring and emotional experience as we sang and chanted while pictures were taken in a most beautiful setting. That night we had a gala celebration with a live band and we received our Bat Mitzvah Certificates.
I could write reams about this Country, Israel, that we all love, since there were so many highlights, but that would take a book. I just want you to know that our family had an unbelievable experience with lasting memories to cherish and on behalf of my son, daughter-in-law, her mother, my husband and myself, I say Toda Raba…thank you for a fabulous JOURNEY through Israel, the Heart of the Middle East.
Doris Adler-Salinas for the Adler-Salinas family – May 20, 2010
I've traveled the world far and wide
Never feeling so much pride
Margaret Morse is the way to go
There's nothing her guides don't know
And Wendy – what can I say?
You know how to make the day
Education, emotion, inspiration and more
Is what Margaret Morse had in store
Thank you again for all you do
Making me proud to be a Jew!!
Marcia Grossman
May 15, 2010
Good morning Wendy, Robyn and Michael Morse,
Now that my wife and I have been home for a little over a week and we can truly put our trip into its proper perspective, I feel I must "THANK YOU" each of you and all of your phenomonal team in Israel for truly making it the trip of our lifetime. When we booked our trip with you, we had extremely high expectations for this journey to Israel. We had been there once before in 1983 and sincerely wished to return, but did not know how different this trip might be. Your Margaret Morse trip was so dramtically more enlightening that there really is no comparison to our previous trip. On our last trip we may have seen some of the same sights, but with our tour guide, Bruce, this time we felt them. Additionally, we were taken to an amazing number places this time that we were not taken to before.
I cannot imagine why any person planning a journey to Israel would choose any trip but a Margaret Morse Tours. If they do, they will truly be making a mistake.

Sincerely,
Larry & Arline Goldberg
Boynton Beach, FL – May 9, 2010
Dear Wendy,
We just finished listening to the beautiful tape you gave us. I couldn't help getting tears in my eyes.
It wasn't easy convincing Erwin to take a trip to Israel. When he agreed, I found out about your tour from a friend, (Helen Wendlinger) and booked.
The itinerary is outstanding, we feel that we saw all of Israel's important cities and sites. Our guide David, held us spellbound, from the moment we first boarded the bus. He is so passionate about Israel and its history, and gave us a wealth of knowledge. We loved following him everywhere, and might I add, that we were right there behind him.
Akiva is a driver, like no other. We were in awe, of how he maneuvered the bus. He is a pro.
We thank you for an experience that we will hold dear to our hearts, and will never forget. It is so obvious to me that your Mother, and now, you, go out of your way to make this trip special. The beautiful dinner dance, with the cake decorated with the names of birthdays and anniverseries, the CD, the Kiddush cup, the wonderful Chinese luncheon, the dinners in local restaurants, and even the chocolate milk, are details that add a very personal touch.
One of the highlights of the trip for us, was my Bat Mitzvah. I was not aware that this was possible for adults on your tour. It was so special for me to become a bat mitzvah on top of Mt Scopus, a rite that I thought was not possible for me to achieve. The ceremony was beautiful, and made my husband as happy, as I was.
We know that we will never forget this trip, and we will talk about it, and Margaret Morse, for a long time.
Shalom,
Sandi and Erwin Ganz
Warren, NJ – Nov 26, 2009
Feel free to use any part of this letter on your site.
Dear Wendy, Robin and Michael,
How do we say thank you for a trip of a lifetime! Every moment was a joy–we were on the Oct.6th Tour–Bruce was our guide and Akiba our driver. –Bruce shared his love, knowledge and passion for the State of Israel. Akiba is the sweetest–kindest man alive–they helped to make the trip so wonderful.
We waited a very long time to travel to Israel–and we chose the very best to take us there. Thank you for all that you do to make this an experience of a lifetime for all the people on your tours..( We would be thrilled to be a good reference for you.).This trip will live in our hearts and our memory forever. Every Jew should visit Israel–and everyone should be as lucky as we were, to travel with Margaret Morse Tours.
Thank you again–and may you continue to take Jews home to their homeland.
Fondly,
Sandy and Stan Bialick
Monroe Twsp. NJ – Nov 12, 2009
Dear Wendy and Family,
Our trip to Israel, on Oct 6 2009 will be etched in our hearts and minds as one of the most wonderful experiences of our lives. The time and efforts to make this happen is monumental and we thank you for your professionalism and wisdom to create this spiritual connection with those of us who had the good fortune of traveling with you.
Having David as our tour guide was the icing on the cake.
He was articulate, humorous, extremely knowledgeable, kind and a sheer pleasure to tour this most glorious land with. We laughed together, we cried together and we shared a common bond that will never be forgotten.
Kudos to Margaret Morse Tours…. 5 Star and Class Act.
Shalom,
Fondly,
Dyane, Ian, Selma, Ronnie and Jeffrey
Nov 07, 2009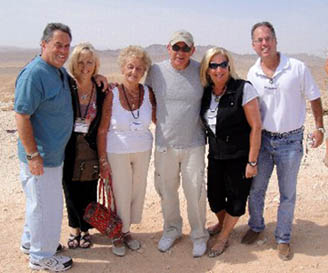 Fondly, Dyane, Ian, Selma, Ronnie and Jeffrey
Dear Wendy,
In searching our vocabularies to find the appropriate words to describe our most recently concluded trip with Margaret Morse Tours, (10/20 – 11/05/09), we came up with two words – commitment and passion. Your commitment to and passion for the State of Israel, which is only matched by your commitment to and passion for your Tour Travelers satisfaction.
Thank you! Thank you! Thank you for a truly unforgettable experience in the amazing land of Israel.
Our best wishes for your good health and your continued tours to Israel for many years to come.
Your mother would be proud of you!
We would be remiss if we did not express our appreciation for our Tour Guide, Allan and our Driver, Moishe. They were Great!
Most sincerely,
Elaine & Sid Reisch
Mission Viejo, CA – Nov 2009
Dear Wendy,
I just wanted to say thank you for the wonderful tour. It was a perfect introduction to Israel. From beginning to end your tour was more than we ever expected. The hotels were fabulous. Every time we thought the hotel was wonderful, the next one was even better. David our tour guide was just wonderful. His passion for Israel left us with very special feelings as well as a wealth of information. We felt like from beginning to end that you took care of us. You took care of every detail. Nothing was left to chance. The parties in the evening were so much fun. We have never been on a tour that has been as special as yours. We would also like to thank you for the kiddush cup and CD which will always remind us of our time in Israel. It was a pleasure to meet you and hope to come to Israel again in the future. Thank you again. I can't sing your praises enough.
Sincerely,
Sharon & Jack Lennett
Nov 2009
Dear Robyn,
Although it's taken me a while to write, (we had so much going on when we got back from Israel), we wanted to let you know what a wonderful trip we had. It was one of the best decisions we have ever made. The Margaret Morse Tour could not have been more perfect. Our group of 30 was the perfect size, everyone was so nice, and Robyn, you were right about the bar-bat mitzvahs not hindering the tour for us. In fact, it added to the experience, being part of that ceremony on top of Masada and the nighttime celebration! My son Ryan, had a truly memorable experience for his first time out of the country. The itinerary was well done, and the food was terrific. However, the icing on the cake has to be Allan. He is remarkable, a master tour guide in every single way! Akiva wasn't too bad either!!
Thank you again for your help, I am so grateful to have found you on the internet!
Fondly,
Michele Marcus
New york – Sep 2009
Dear Wendy,
Maxine and I would like to thank you for a most wonderful tour. We have not stopped heaping praises on you and your company when speaking to our friends and relatives since our return home. You have thought of everything to make our trip a memorable and unforgettable experience. The hotels were very nice, especially in Haifa and the food was excellent. We especially loved those evenings with music and dancing.
Before we left my biggest concern was the size of the group—3 bus loads. But that actually worked out great. The three groups travelled on their own during the day. We didn't have to wait for each bus; but in the evening we all ate together and were able to meet so many fine people. We hope to stay in touch with many of them and have some long lasting friendships.
We cannot say enough about the guides. Our guide was David and we loved being with him. He was very knowledgeable and extremely interesting. On occasion we were with Allan and he was also very knowledgeable and very humorous. Our driver was also exceptional. He was courteous and always very helpful and pleasant.
There were so many highlights that I hate to pick out any one, but I must say you went all out on the Bar/Bat Mitzvah extravaganza. I would like to invite the band to play in Toronto at some of our gala evenings.
Picking our luggage up at our rooms and having them delivered to our rooms in the next city was a real luxury which we have not experienced on any other tour we have taken. Add to that your surprises and gifts and we believe that this is the best tour we have ever been on.
Thank you again for a most wonderful time. We wish you all the best of luck in the future and hope that we can send many travellers to Israel with Margaret Morse Tours.
Maxine & Lawrence Polon
Toronto, Canada – June 2009
In 1996, I took my first amazing trip to Israel; the tour and visit changed my life, I had always been a Zionist, but I became more enamored and passionate about the country after my first Margaret Morse tour.
Fast forward to 2009. Once again I took this amazing tour with my sister and brother-in-law; it was their first trip to Israel and my eighth trip.
Everyday brought something new and exciting; the hisstory, religion, archaelogy, politics, food and wonderful people. For me, the tour was not a repeat of the 1996 trip, but instead there were many additional sites and wonders for me to see.
I really don't know how this tour manages to do what they do, but we managed to visit the entire country in jsut 2 weeks, and no9t in a superflous manner.
The guides, Allan and David are superb; Allan, with his great sense of humor imparts his knowledge in a way that is easy to understand; David, with his passion and knowledge of everything about Israel.
Both drviers, Michael and Akiba had smiles on their faces every day. In addition to superbly manuevering dangerous roads, they were helpful and supportive of all the people on the bus.
I know that I have been returning to this amazinga country due to my first experience with Margaret Morse tours. They challenged me to feel and think about the problems this tiny country faces. I cried when we did our Shechiyanu on Mt. Scopus, and during our emotional visit to Yad Vashem and the moving Shabbat service at the Kotel.
Yet, there was still time for laughter; music, dancing provided by the tour, made a wonderful balance to my emotions.
I am confident that I will reeturn next year to Israel, and perhaps in a few years, once again I will sign up with the Margaret Morse tour. I know that they will once again make the trip fresh, new and special. Wow,Wow,Wow!
If any of you are debating about visiting Israel with this tour, don't!
Just sign up immediately. You will not be sorry!
Stephanie L. Zaro
Queens, New york – June 2009
Israel tour w/ Wendy and Bruce,
Just to let you know what a wonderful and educational visit we had on the April 21, 2009 tour of Israel. Bruce, our guide, was superb, knowledgeable and spoke with such enthusiasm of the country that he, as well as Israel, will long be in our memories. Wendy, was of course, at her best. Her sharing with us her thoughts and remembrance of her mother were heartwarming and only added to the new feelings that we discovered within ourselves. What a remarkable woman she must have been.
As Marilyn and I sat down for dinner this evening we played "Am Israel Chai" and talked about our trip. What a gift! We have already spread the word that Margaret Morse Tours is Israel and Israel is Margaret Morse.
We have been on many tours but have never had the experience that Wendy, her family, guides, drivers, etc, gave us during our maiden trip to this most exciting land called Israel.
Thank you,
Marilyn and Dudley Lehman,
May 08, 2009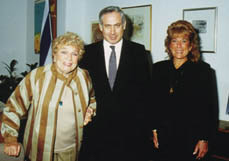 Margaret & Wendy Morse with Bibi Natanyahu
Dear Wendy.
"Whhhat a country, Whhhat a country" as Allan would say. "Whhhat a tour, whhhat a tour – whhhat a tour guide, whhhhat a tour guide" as the gray bus would say about Margaret Morse tours and Allan Marks.
Just wanted to thank you for the most fabulous tour. Israel is a beautiful and amazing country – from north to south and east to west and everywhere you took us. We saw, we learned, and experienced ancient history to today. We saw
archaeology, architecture and agriculture. It is amazing what the Jewish people can do. I call it inJEWnuity.
It is amazing that such a large group – 160 could travel so smoothly – I know that to organize these tours must be very complex, but everything just goes seamlessly. YOU DO A GREAT JOB!!!!
I know everyone thinks they have the best tour guide – but, we DID have the BEST.
Allan Marks has such love and passion for Israel that we were all inspired by his knowledge, wit and personality. As I told him, his inspiration was so contagious that we all caught it and we are going to spread it.
Thanks again for making this a trip of a lifetime. We would be happy to be used as a reference.
Ellen & Sid Cohen,
Baltimore, MD – Nov 17, 2008
Dear Wendy, Robin, Michael,
Our trip to Israel from Oct. 28-Nov. 13 (2008) with you was the trip of our lives!
If possible, it even exceeded our expectations. We weren't SENT to Israel, we were ESCORTED FIRST CLASS! Wendy was there every step of the way to make sure everything was great. Even the laundary operation went smoothly. We loved it all. Bruce was the most knowledgeable, enthusiastic, personable guide we could possibly have had–his passion and depth of knowledge is amazing, and he seemed to care for the welfare of everyone in the group. And Akiba is the best driver in Israel; how he handles a bus is absolutely amazing. Our only complaint is that no one in Israel makes fresh de-caf coffee. Outside of that, thank you for the greatest travelling experience of our lives. We wish you continued good health anfd success.
Phil and Barbara Steinberg,
Fair Lawn, N.J. – Nov 19, 2008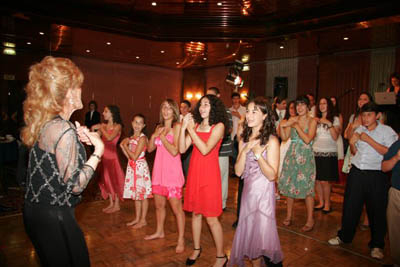 Dear Robyn and Michael,
I never had a burning desire to visit Israel but when my husband donated and built a playground as a memorial to his late wife, I knew that this was our time to go. Milt, my husband, wanted to take a private tour but when our friends, Janet and Irwin Mayer told us that they were booking a tour through Margaret Morse, I immediately knew that this was the way to go. I knew of many people and organizations who had booked through Margaret Morse and the feedback was always positive. Well, you didn't disappoint!
Although we booked our own flight on Delta Airlines, arriving a few days earlier, our Israeli adventure actually began on Thursday morning when we were introduced to David, our tour guide and Michael, our driver as we embarked on our first adventure through Tel Aviv and Jaffa. During that first day, we knew we had made the right choice and that we were in good hands. From that day, on to our very last day in Eilat and then back to Tel Aviv, we realized how special Margaret Morse was. David had so much knowledge about every place we had visited and was able to impart that knowledge to us in a clear and intelligent manner. The personal touches he shared with us added an additional dimension to our adventure.
During many of our tours, when we happened upon some of the other guides, we stopped to listen to their presentations and were amazed at how much each one knew and by each one's unique styles of presentation. The people on our tour were a cohesive and friendly group and we were able to share the many moments we had just experienced and to put them into perspective with our own personal lives.
Then, there was your mother, our fairy godmother, Wendy, who sprinkled her ow n magic stardust on each of us. She is truly an asset to Margaret Morse. Her dedication, caring and friendliness shine through her beautiful face. You felt that you were not just sent on a tour but that Wendy was always part of the group, and that made it so special.
We had spoken to Michael about obtaining a van for us and some friends to take us to the memorial playground in Yatad, a small temporary settlement in the Negev Desert. When in Eilat, Allen approached us and gave us the name of the driver as well as his phone number in the event that there was a problem. At breakfast that day, we had mentioned to Bruce that we were going to Yated and that no one had really heard of it. Without saying a word, Bruce disappeared and then reappeared with a map, to point out the best route. These were special added touches that showed that each of your guides cared about the whole group not ju st his individual group and that was so well appreciated!
Speaking to others on our bus, as well as others in the tour group who were on different buses, we did not hear one negative about the entire experience. We tried to think of something that you could have done differently or better, and we couldn't!
Please accept our thanks for a wonderful adventure in Israel. We learned so much, enjoyed so much and had the opportunity to meet a very special lady, Wendy.
Sincerely,
LILLIAN & MILTON BRESLAW
LAKE WORTH, FL – Nov 19, 2008
Dear Wendy, Robin, and Michael,
My wife, Janet, and I just returned from a Margaret Morse journey. We were elated with the personal attention that we had every step of the way.
Our days and evenings were filled with exciting sights, food, and entertainment. The hotels and even the Kibbutz were upper crust accommodations. The shopping was great (we helped support the economy of Israel).
Our guide, David, was extraordinarily knowledgeable. In the short time we were with you, we gained an immense insight of the country and an appreciation of what this small country is capable of doing.
The ancient and present history is certainly a force to be appreciated by all who visit Israel. The pace at which David moved challenged each and every one of us, but it also inspired all of us to keep up with him. Speaking to others who went on other tours of Israel, we saw much more in the same amount of time. The vast amount of familiarity with each subject that we saw was enhanced by the amount that we were told. It was like touring with the encyclopedia, but with a personal touch.
Our days were filled with one amazing sight after another and gave us an appreciation of what we were being shown.
The kippah, the music CD, and especially, the Kiddush Cup will have a special place in our home.
On a personal note: The memory of the time Wendy gave me special attention when I couldn't walk to the restaurant on the final night and how she got me to the restaurant for dinner, showed how much she really cared for all that were in her care.
When asked what stood out on the trip, I can honestly say that were was no special highlight on this tour, because everything was a highlight.
After being in a wheelchair for over a year and not going last year, I am so happy that my wife and I waited and finally got to go on our journey.
Finally, your company has shown us how much you care about the people—and we are your people. We loved our Pilgrimage to places we only read about and now were able to experience. Please, by all means, use us to recommend a Margaret Morse journey, any time, to anyone.
With special regards,
Irwin and Janet Mayer
Ponte Vecchio, Boynton Beach – Nov 19, 2008
Dear Wendy, Robin and Michael,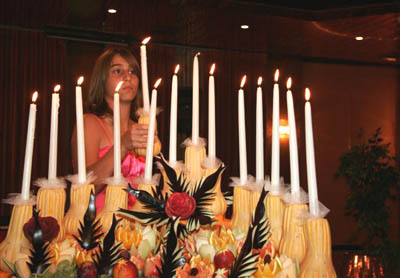 It does not happen too often in our days when you pay for services in advance and receive so much for your money that you actually start to worry if tour operator made any money whatsoever… Well, our family was not the only one who had that feeling. But this is the least important of our reflections. Mush more important was meticulous planning of the trip with one main goal in mind – to create unforgettable memories for our Bar/Bat Mitzvah children and establish strong bond for them with the land and state of Israel. We can't stop sharing our memories with friends and family sincerely suggest everyone to take a trip to Israel with Margaret Morse Tours instead of burning lots of money for one evening of conventional Bar/Bat Mitzvah party next to your house. We have something to compare with – it was our second Bat Mitzvah trip and it surpassed all expectations which we had from the first trip ten folds!
Sergey, Irina, Katja, Sarah
Fair Lawn, NJ USA – July 14, 2008
We would be happy to give references in person.
With best wishes,
Shevchuk's family (Sarah, Sergey, Irina, Katja)
Dear Wendy:
This open letter is to anyone considering a Bar/Bat Mitzvah in their child's future. We faced the choice of a conventional event at home versus a Bar Mitzvah trip to Israel. Eventually we decided that the time, effort and money would be better spent on a family trip. WOW, were we right. How many times in life can you look back in retrospect and say with all the options possible you made absolutely, crystal clear, the best possible choice? Not only is a Bar/Bat Mitzvah trip to Israel a better choice than a party at home but Margaret Morse Tours is the best choice for taking that trip. I also want to point out that a group tour is better than a private tour. By the end of your trip you will have 40 new friends and your child will have 10 new friends at his/her gala celebration party in Israel. The experience is better with a group and the group dynamic serves as a force multiplier even further enhancing the experience.
Wendy and her people are passionate about what they do and they do a fantastic job. Israel is an amazing place and and you will find yourself looking back like us and saying you had a great time, a great experience, lasting memories, and you made the best possible choice.
—
Thanks again,
Michael B.
Alpharetta, GA – December 31, 2007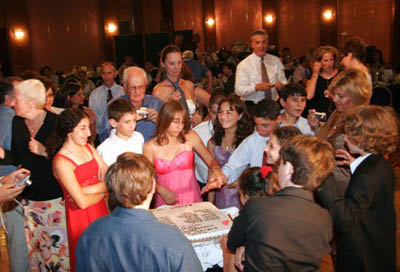 For a steller trip to Israel Margaret Morse Tours offers the ultimate experience.
I have been around the world a number of times and traveled with most every tour company and no one comes close to the quality and value that Margaret Morse Tours offers.
The company is family owned and operated and each tour is accompanied by a family member along with an excellent Israeli guide who imparts a world of knowledge, Each day on the tour bus begins with the charming and vivacious Wendy leading exercises to a catchy tape and all of the guests laugh and join in.
The hotels are all first class with each servng a better Israeli breakfast than the other. Dinner is always included, some are at the hotel and others are in special restaurants. There is entertainment, cocktail parties, surprises and gifts, all to please and amaze the guests.
Now is the time to visit Israel and do it with Margaret Morse Tours!
Estelle Dunst
San Diego, California – June, 2007
Dear Wendy,
Wow "WHAT A COUNTRY!" , where to begin. First allow me to say thank you for putting up with me giving you hugs and kisses of thanks every day… You deserved each and every one, and then some!
Our June-22-06 15 day tour was beyond our wildest dreams. I have been to Israel several times and THIS TRIP, with our Fabulous tour guide "Shalom" was the best, most fantastic experience. Loaded with fun, learning and hospitality that is 2nd to none!
THE BAR MITZVAH WAS EXCELLENT AND SO BREATHTAKING ON MASADA…. NO WAY WOULD I EVER CONSIDER A SYNAGOGUE TYPE BAR MITZVAH AFTER HAVING THE ONE WE DID ON YOUR TOUR!! Simply Magnificent ! Our Kids made tons of new friends, were laughing all the time, and just when you think they aren't "getting it" they surprise you with their new sense of Jewish Pride and the realization that Israel is "really cool" and their birthright !
My 16 year old daughter announced on the plane ride home that when she gets married she wants to raise her children in Israel….. Folks… it just does not get any better than that!
Let me go down the list here of a few of our favorite things: excellent planning, extreme comfort & safety, FOOD FOOD FOOD like you have never seen before… trust me on this… you will not go hungry. Dining at the hotels was amazing…. yes… amazing! The Gala was incredible with all 3 generations of our family there and dancing up a storm. Right down to our bus driver it was like traveling with lifelong friends!
My son, the bar Mitzvah Boy had the experience of a lifetime and now knows 1st hand what our beloved Israel is all about & he is proud to be a Jew. He speaks of Israel as if it is his own… and I say MISSION ACCOMPLISHED! My wife was getting nervous just prior to leaving because of security concerns…. Now she wants to move to Israel and live there ! How about that! The seemingly endless parade of surprises was greatly appreciated and time after time showed your love and devotion to making our trip an incredible experience!
I hope you post this on your website as I want to address this to the future customer of Margaret Morse Tours. Think about your Bar or Bat Mitzvah child. What will they really have at the end of their Bar or Bat Mitzvah Day. What did they get out of the experience? That they will never have to "go through that again" ? That they are glad it's over? Were they focused on how much money they would get? What kind of "Goodies" you would give to their friends? Do you really believe that your son or daughter will even be spending time with you during the celebration? Chances are you will be stressed out and glad it is all over what with the food, guests, the DJ. , the invitations, suits, dresses and the endless parade of $$$ that it takes to make this all happen. How could you possibly compare the experience between shoving the Bar / Bat Mitzvah experience down their throat, to that of your child's gleaming eyes & their laughter as they live , learn and experience Israel 1st hand and imagine SEEING the miracle of Jewish Pride growing brighter and brighter within them with every new day! You want my opinion… life is what happens while we are busy making other plans… Israel is amazing folks… it's safe and Margaret Morse will provide you , as they did us, with the experience of a lifetime. For about the same cost of a shmaltzy affair / reception we all lived a dream come true. Parents: you can do this. Give your children something that they will carry with them forever… the pride of being Jewish and the joy of having found it in Israel. It just does not get any better than that!
When memories are more valuable than money or gold it is the sign of time well spent.
So, Wendy, once again thank you & Shalom our tour guide for your endless energy, your warmth and dedication for making this such an incredible experience… you both always have a place in our hearts and in our home should you ever travel to Maryland.
With love & endless thanks,
The Wolfson Family
Reisterstown, Maryland – July 9, 2006
"Dear Wendy and Alan,
The tour we did was absolutely spectacular. What's more important, it was extremely emotional and charging. It was a personal experience on a very high spiritual note. Interestingly enough, if asked what kind of tour I'd like to take in Israel, I'd try to describe something which you and Alan so superbly implemented in reality. Many thanks to you and him.
I'll be happy to talk as a reference to anybody who wishes to take this tour.
And one more very important thing: Alan, it was an honor to have you as a leader. Special thanks to you."
Zor & Gail Shekhtman, New York – April, 2005
"Margaret Morse was the best family vacation we have ever had – it was a rewarding experience that our family will always cherish. Margaret Morse is a unique tour company – they are so passionate about showing you Israel that their passion come ahead of their profit. Their is so much value packed into their tours that you wonder how they do it for the price. It is important to know that Margaret Morse does not send you to Israel but will only take you to Israel with a member of the Morse family to make sure everything is perfect!
Don Silberstein Bar Mitzvah Tour-December 04
"The past 16 days were more than we could have ever hoped for when we decided to take your Bat-Mitzvah trip. Against all odds you miraculously delivered not only what we knew we paid for, but so much more. We know exactly what you mean when you say that you are all one big family and it shows in every aspect of the trip. It was truly our pleasure celebrating our daughter's Bat-Mitzvah with 3 generations of our family joining your group. Above all else, we are so thankful that we did not yield to family and peer pressure concerning travel to Israel. Having traveled the entire country with you it is quite evident that the media has and continues to completely fabricate the sense of security and safety it has in Israel. No where could we possibly have felt safer and more comfortable. Thank you for making our trip so very special not only for us but for our children."
Tamar & Bruce Sklover Long Beach, New York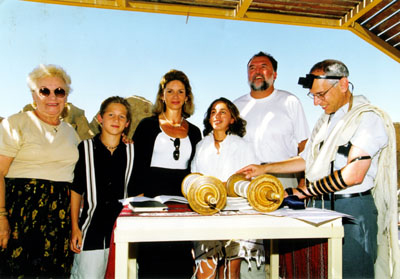 3 Generations – Ceremony on Massada
"Dear Wendy, Thank you for a most memorable moment in our families life. The bar mitzvah tour you organized was orchestrated with love, warmth, energy and an intelligent understanding of the needs of both young and old. It was a revelation to watch the bonding of 13 year old children, their parents, siblings, grandparents and even the few adults that joined in on this special 15 days. Allen, our guide, was amazing in his understanding of bringing history, occasion, joy, pride in Judaism and sense of responsibility to even our most secular in this contented group. Your intelligent, fulfilled whirlwind bar-mitzvah tour allowed each of us to view Israel as no other could have possibly achieve. Lenny and I commend your ability and we know that Josh will follow in his brothers footsteps when the time comes. We wish you the best."
Fondly,
Phyllis & Lenny Stern. August, 2005
"Dear robin,
I just had to write and let you know that I am flying on cloud 9. This was an experience of a lifetime and I have been drained emotionally since returning on Thursday. I have not stopped raving to everyone about your tour and you should definitely be getting many new clients from me in the next coming months. I'm only sorry my wife was too afraid to go so that we could have shared this first time experience together. I'm sure u spoke to your mom while we were on tour and she told you how excited and emotional I was. Both Ron and Alan were exceptional guides. As well as the drivers mike and Akiva. There is not one thing about the trip I would have changed. Growing up in a Sephardic home I was in my glory with all the middle eastern delicacies. Both my wife and daughter and 2 other couples and one or two of their children plan to tour with you again possibly in 2007 or 08. Also please put my name down on your referral list if anyone would like to contact me regarding your tours.
Regards,
Steve Brotsky, Hollywood, FL – August, 2005
Israel Group
Israel – the trip of a lifetime! – May 2005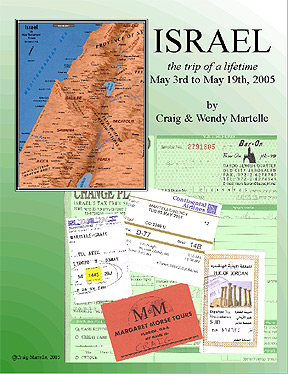 "I want to thank Margaret Morse tours for making such a trip and our book possible. We spent a long time researching on the Internet and one name kept recurring in regards to high quality and comprehensive tours of the Holy Land, Israel. From the second we were met in the terminal at Ben Gurion Airport to the last drop off 17 days later, we did not have to handle our luggage, worry about a meal, hassle with accommodations, or generally want for anything.
Most importantly, for any trip to Israel, one must examine one's own faith. As it turned out, we were the only Christians in a group of sixty-seven people. Everyone else was Jewish and the average age on the tour was probably in the sixties. So we were the double minority by also being the youngest couple. And we were welcomed within our group and we were treated with dignity and respect just like we try to treat others. We enjoyed the tour immensely and have regrounded our faith in Christ. Keep in mind that Jesus was born, lived, and died as a Jew. He was the King of the Jews and the Son of Man. I believe that we are stronger Christians because of our trip to Israel as part of a Jewish group. No matter, even if one is completely secular, Israel's archaeological sites are second to none.
What can we say? Everyone must go to Israel. Reinvigorate your faith or just visit a place that is the foundation of history. We recommend a Margaret Morse tour for your first trip in order to get the best overview of Israel."
Craig & Wendy, Westmoreland City, PA
Gauntlet International
www.gauntletinternational.com
Israel – the trip of a lifetime!
Hi Wendy,
Bill and I are almost over the Jet lag. Odd that we did not experience it when we arrived in Israel. I just wanted to tell you how great the 17-day tour was; certainly beyond all of my expectations (and I expected a lot). You certainly did not miss a trick. This was my first trip to Israel and hopefully, not my last.
I've just finished translating all of my notes and tears keep welling up in my eyes. We did so much and saw so much and while every day and every minute spent was extraordinary, the one vision that keeps coming into my mind was the Ayalon Institute. I have spoken to several friends who had recently been to Israel and not one had been there.
If you would like to use us as a reference, we would be most pleased to bend anyone's ear (for as long as they could stand it) on why they should go with Margaret Morse tours. I had mentioned to you that about 20 years ago, my uncle who lived in Florida, told me that Margaret Morse Tours was the best and that I should go with them when the time would come that I would be able to go.
Sincerely,
(Ide) Vera Boehm Orangeburg, NY – May 2005
"WOW- what a travel agent, what a coordinator, what a guide, what a safe driver, what a country! We felt safe and cared for with superb accommodations. Margaret Morse Tours is respected everywhere! Our trip on May 16 was the greatest. We felt totally safe throughout the country."
Marian & George Lipshaw West Bloomfield, Michigan
"This was our fourth time in Israel and feel this was the BEST trip we ever had! We were shown places that we had never seen before, and at no time during our 16 days did we ever feel anything but safe. Our bus and driver were with us from beginning to end. All the hotels treated us royally. We loved every moment and wouldn't think twice about returning to Israel."
Harvey & Clare Meyers Boca Raton, Florida
"I felt safe at all times, would highly recommend this trip to everyone, and plead for all Jews to come to Israel!
Dorothy Klegerman Las Vegas, Nevada
"Shalom Wendy, I want you to know that I have been traveling to Israel for 30 years, at least once a year- so tell you that the tour with my family was ABSOLUTELY ONE OF THE BEST BAR/BAT MITZVAH TRIPS I HAVE EVER TAKEN is certainly reflective of your company. The "ruach" (spirit/feeling) was indescribable; there was so much warmth and camaraderie. Of course, I must also commend you on the efficiency of your company. What else is there to say, except, I hope to travel many more times with your company. It really exudes a "feeling of family". KOL HA KAVOD TO YOU ALL! Thanks again for making our trip so special."
R. S., W. Bloomfield, MI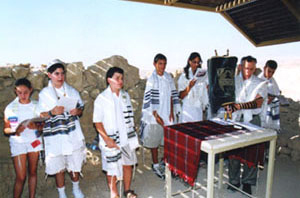 Bar Mitzvah Ceremony on Massada
"Dear Margaret & Wendy, We just returned and had to let you know how fabulous it was. The trip far exceeded our expectations. It would be impassable to say what the highlight was; there were so many. Each day we saw the history of Israel come alive. Our guide and driver were exceptional. You left no stone unturned in your efforts to show us Israel from one end of the country to the other end. The surprises and "extras" added a delightful touch. Thank you for giving us a trip which will stay with us a lifetime."
B. & P. N., Massapequa Park, NY
"Dear Wendy, Most people take time to write to complain about poor service or the disappointment in a product. Well, this is neither. I know how much a businessperson likes to receive positive correspondence. Wendy, I (we) never expected our trip to Israel to be so wonderful. Without your wonderful tour guides I'm sure we wouldn't have enjoyed it half as much. I don't know where to start. The hotels, Kibbutz, tours, everything was first class. Your personal touch with the gifts was above and beyond what we expected. I can't find enough superlatives to describe your company and your presence on the tour."
M. & S. S., Delray Beach, FL
"Dear Margaret Morse Family, Thank you for the best Bar/Bat Mitzvah Tour ever! Having lived in Israel for many years I didn't think there was anything left to see. You proved me wrong. The depth of knowledge the guides had was only surpassed by the wonderful way it was delivered. The Bar Mitzvah was incredible and I know my son will have these memories for a lifetime. I am being redundant in thanking you again but it does need to be said."
J. & R. J., Baltimore, MD
"Dear Wendy, Please add our name to your long list of referrals for your wonderful Bar & Bat Mitzvah Tours. We can't say enough good things about the trip. From A to Z you have taken care of every detail with an enthusiastic labor of love. No wonder my mother-in-law has been with Margaret Morse Tours throughout the globe."
S. & J. B., Coral Springs, FL
"Dear Margaret & Wendy, In all of our travel, this will remain the most outstanding of all experiences. Israel is unique ­ and so is your approach to it. Your commitment and enthusiasm rubbed off on us all and we came away with a great sense of pride and belonging. We cannot stop raving!"
A. & J. G., Manalapan, NJ
"Dear Margaret and Wendy, Thank you for the most memorable, educational, and delightful time of my life. You provided an inclusive tour, balanced with a fine array of dinners, dancing, and entertainment. My thanks to each of you for making my dream come true."
M. G., Dennisport, MA
"Dear Margaret & Wendy, We expected a wonderful experience, but your trip was much more than we even hoped for. Day after day, we got surprises, wonderful parties, great food, and the most personable, knowledgeable guide in the world! We laughed and we cried. Thank you for a perfect trip."
H. & L. W., Douglaston, NY
"Dear Margaret, Wendy, and Michael, We want to express our gratitude to you and your organization for providing us with the best possible tour that we have ever taken. We had traveled to Europe many times but this was the first time we had visited Israel, and we were indeed fortunate to have chosen Margaret Morse. Personal care and understanding was indeed one of the highlights of our trip."
H. D., Boynton Beach, FL
"Dear Margaret and Wendy, We were fortunate to be a part of your tour to Israel. We couldn't have asked for a more wonderful inspiring experience! Now, I know the tour to recommend."
D. P., Simpsonville, SC
"Dear Wendy, We are home and finally rid of jet lag, reminiscing about our recent incredible Israel trip. I cannot begin to put into words the sheer joy and thrill of making my first trip to Israel. The memories you helped create will last a lifetime. Everything you promised were delivered, beyond our expectations. EXCELLENT, SUPERLATIVE, and UNPARALLELED are some of the words to describe our Bar/Bat Mitzvah trip relating to the tour guides, the itinerary & accommodations. The food (there was plenty) was far beyond what we expected. We also loved your attention to the "little" details that made us all feel so special. Our children were so impressed that a return trip has been discussed for our second son's Bar Mitzvah in 3 years. We will gladly tell our friends about the Margaret Morse Bar & Bat Mitzvah Tour."
R. S. North Wales, Pennsylvania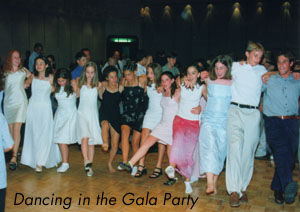 "Dear Margaret and Wendy, I didn't want too much time to go by before sitting down and writing to you….to thank you for the unbelievable experience of the Israel tour. Words fail me. There aren't enough adjectives to describe the outstanding, awesome, educational, social, historical happening that you offer to your tourists. The two weeks we spent together will be etched in my memory forever! The feelings for Israel that you exude only help to make the trip even more memorable. Thank you for the outstanding job you have done."
M. D. Whitestone, New York
"Dear Margaret, Wendy, Robyn, and Michael, We cannot express our pleasure and complete satisfaction adequately with regard to our recent Bar/Bat Mitzvah Tour. Our two accompanying grandsons were properly impressed with the trip, especially with their ceremony at the top of Massada along with the diversity of experiences they enjoyed in Israel. Everything that you advertised was forthcoming and nothing was exaggerated. The daily itineraries were well formulated and comprehensive, never boring. Our guide was extremely knowledgeable, articulate, humorous and able to connect with the young people as well as the adults. We would not hesitate for one moment to recommend your tours to anyone."
A. & B. G. Detroit, Michigan
"Dear Wendy and Michael, We just returned from the Bar Mitzvah trip to Israel. Fantastic is the only way to describe it. The attention to details and the way you made it worry free were just what we wanted. There was little you could have done to make our experience any better. Most people make a Bar Mitzvah party that lasts for one night; this was a two-week Bar Mitzvah party! We met interesting people on the trip and plan to keep in touch with them. The experience gave our children a greater awareness to their heritage and our older son plans on returning to Israel next summer. Your selection of hotels was great and so were the meals. The entertainment added to the joyous occasion and so did the gifts that you provided. The Bar Mitzvah party was as lavish as any I have been to at home and the candle lighting added a touch of solemnity. I can go on and on. Thank you for making this a trip and an occasion we will always remember."
M. & D. L., Toronto, Canada
"Dear Margaret and Wendy, Just a note to let you know that the tour to Israel was the most fantastic trip we have ever been on. The tour was magnificent, food was excellent, and the tour guides could not have been any better. Nothing on this trip could have been anymore delightful. Everyone we have talked to could not believe how first rate your tour was. Thank you for a wonderful experience that we will never forget. We hope to join your Scandinavia Tour next year."
S. R. Owings Mills, Maryland
"Dear Wendy, We have been back from Israel for approximately three weeks and now that the laundry is done, have the time to tell how much we enjoyed the Bar/ Bat Mitzvah Tour. Until you experience the tour as set up by Margaret Morse, you think one travel / tour group is the same as another. However, that is simply not true! Other tours don't have you or Robyn or Margaret with them, ensuring everything goes just right! You don't stop there either-you exceeded our expectations with the surprise presents and really gave of yourselves, ensuring everyone has a good time. The kids are still talking about the trip and that's what we wanted-to make lasting memories from a trip of a lifetime. Your tour guides are truly top notch and kept things together quite well. Should you have people interested and are wavering please refer them to us-we'll set them straight! Thank you for a wonderful time."
Z. R. Cooper City, Florida
"Dear Margaret and Wendy, I want to thank both of you personally for the wonderful time I had on your Israel tour. I am having trouble readjusting to real life since I keep thinking about my tour with you. I had the most wonderful time I have ever had in my life, through both of you, became a reality."
C. D. Huntington Valley, Pennsylvania
"Hi Wendy, We are still on "Cloud 9″ after our wonderful time in Israel and have been raving about Margaret Morse tours to everyone who asks about our trip (which is everyone we know !!!) Thank you for the most inspiring trip of our lives."
S. & K. B. Atlanta, Georgia
"Dear Wendy and Robyn, Thank you for the extraordinary Bar Mitzvah Tour to Israel. Margaret Morse Tours thought of everything. It is truly the first time we have been involved in anything much better than advertised! The Bar Mitzvah Ceremony on Massada was the most beautiful we have ever attended, and our boys were totally at ease and proud of their participation. Please feel free to use us as a reference for Washington and Baltimore parents."
G. P. L. Alexandria, Virginia
"Dear Wendy, How to begin… what to say! As I told your son Michael since morning, putting down on paper our feelings about our Margaret Morse trip to Israel is going to be hard. Having traveled to Israel several times during the past few years, we were not certain how we were to feel about being on a "tour". Any concerns quickly dissipated from the moment we arrived at JFK. Immediately identifiable were fellow travelers and the friendships began.. not just for the kids but for us parents as well. As I have been telling everyone, the ENTIRE trip was FANTASTIC, OUTSTANDING, WONDERFUL and above all, INCREDIBLY POWERFUL both historically and spiritually. We were continually amazed how sites we had visited before, became much more alive. We were also continually amazed by the sites we had not visited before (and we wondered WHY we hadn't). Needless to say, a big player in this scenario was our guide. His love of Israel, sensitivity and devotion to his trade, not to mention incredible understanding and patience with the kids were evident throughout. Now we come to YOUR contribution to the success of our trip. You know your stuff!… and it was apparent throughout the trip. We were totally happy with our accommodations, meals, itinerary, and all the "extras" that your brochure didn't even mention. We have never been on a trip where everything went so smoothly. We didn't want our trip to end. It was hard to say goodbye to the friends we made. Have I gone on too much? Hopefully you have gotten the message that we are "converts" to MARGARET MORSE TOURS and look forward to receiving brochures on your trips to other destinations. Wendy, thanks so much for making our dreams come true. We will never forget our trip to Israel with you."
S. & H. G., New Orleans, Louisiana
"Dear Margaret & Wendy, We want to join hundreds of others in expressing our appreciation for this marvelous, superb Israel tour. The feeling of family with our fellow tour members was very heart-felt. Our guide was the most experienced and knowledgeable person. A true leader and a real mensch. Everything was well planned and executed. The meals and the hotels were all excellent. Your personal touches and all the extras and surprises made it the kind of tour that you want to tell everybody about. You will hear from us and our friends again."
R. C., Baltimore, Maryland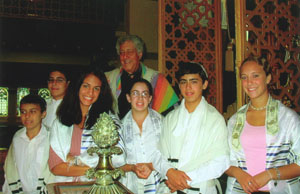 Bne'i Mitzvah Ceremony in London
"Dear Wendy and Robyn, Thank you for a spectacular trip. It exceeded all our expectations. There was enough to do for adults, teenagers, and my Bat Mitzvah child. We loved our guide who made the trip come alive. He was so informative, funny and we learned so much as he shared his love of Israel with us. We will definitely sing your praises and we will use Margaret Morse Tours on our next trip. Todah Rabah."
A. & C.G., Cooper City ,Florida
"Dear Margaret & Wendy, Thank you for making our first trip to beautiful Israel so fantastic. We had heard of Margaret Morse Tours but we didn't expect it to be as wonderful as it was. You run a tour that is indescribable. Your wonderful tour guides made history come alive. Each hour, each day was something that will never be forgotten. Your warmth and caring came through in everything that you did. We are spreading the word that your tours are the greatest! We look forward to taking more tours with you. Thank you again."
A. & S.D., Brooklyn, New York
"Dear Margaret Morse, We just came back, from what we are telling everyone, was the most incredible trip of our life! It was truly magical! This was my third time to Israel and it was by far the best – thanks to you, Wendy, and Robyn! The Bat Mitzvah ceremony was an outstanding emotional experience that my entire family will never forget. Having it half way into the trip was great planning. At that point we had developed relationships with everyone and truly enjoyed sharing the ceremony . It was like one big happy family. The gala party was fabulous. Wendy & Robyn did a great job putting it together. The live band was the BEST and everyone danced, partied and celebrated together in a meaningful, unforgettable way. (It's a shame you weren't there to see how great a job your daughter and granddaughter did!) The approach to Jerusalem was another moment that was well planned hearing your guides talk to us before we said the Shech-he-yanu was extremely emotional. The shows we had in Haifa and Eilat, the many evenings with music for dancing, and the barbeque dinners made this trip fun, as well as an unbelievable learning and spiritual experience. We also thank Wendy for teaching us dances on the boat ride on the Sea of Galilee and having a beautiful smile on her face for us each day! She seems to truly enjoy herself ! You can be sure that Wendy & Robyn are doing the finest job possible. I also want to mention how smart it was to have a bus with siblings older than the Bar Mitzvah children separate from those with younger siblings. I could probably go on and on , needless to say, I felt you should know what an outstanding trip this was. I give it the highest of ratings and have already and will continue to give it my best "word of mouth" praise to encourage others. Thank you and your whole staff for putting together the trip of a lifetime for my family! Words really can't express how grateful we are."
L. & R. C., Franklin, Michigan
"Dear Margaret & Wendy, Our tour of Israel was the most wonderful and beautiful trip. It was more than we could have ever dreamed of. Our guide and driver were the greatest. The places you took us to will be with us for the rest of our lives. We were always proud to be Jewish – but now we realize how lucky we are to have been born Jewish. Wendy – you are super, don't know how you do it. Margaret – you are unbelievable. Thank you all so very much for everything."
J. & J. W., Lake Worth, Florida