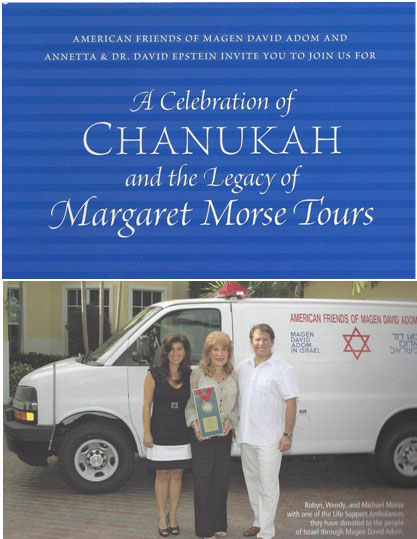 American Friends of Magen David Adom is hosting a celebration of Chanukah and the Legacy of Margaret Morse Tours.
It is a great honor and pleasure that American Friends of Magen David Adom is hosting a celebration of Chanukah and the Legacy of Margaret Morse Tours. We would like to express deep gratitude and appreciation to all of our supporters and travelers who have made contributions in our name. A donation to American Friends of Magen David Adom is not only a huge mitzvah, but a great way to support Israel from afar. When you make a charitable gift to support MDA, you are helping more than half a million Israelis each year. No organizations have saved more lives in Israel than the IDF and Magen David Adom. With your participation in this campaign, together, we will create a bigger impact and magnify our commitment to Israel. We look forward to many more years of continued success which enables us to give back to organizations as wonderful as American Friends of Magen David Adom.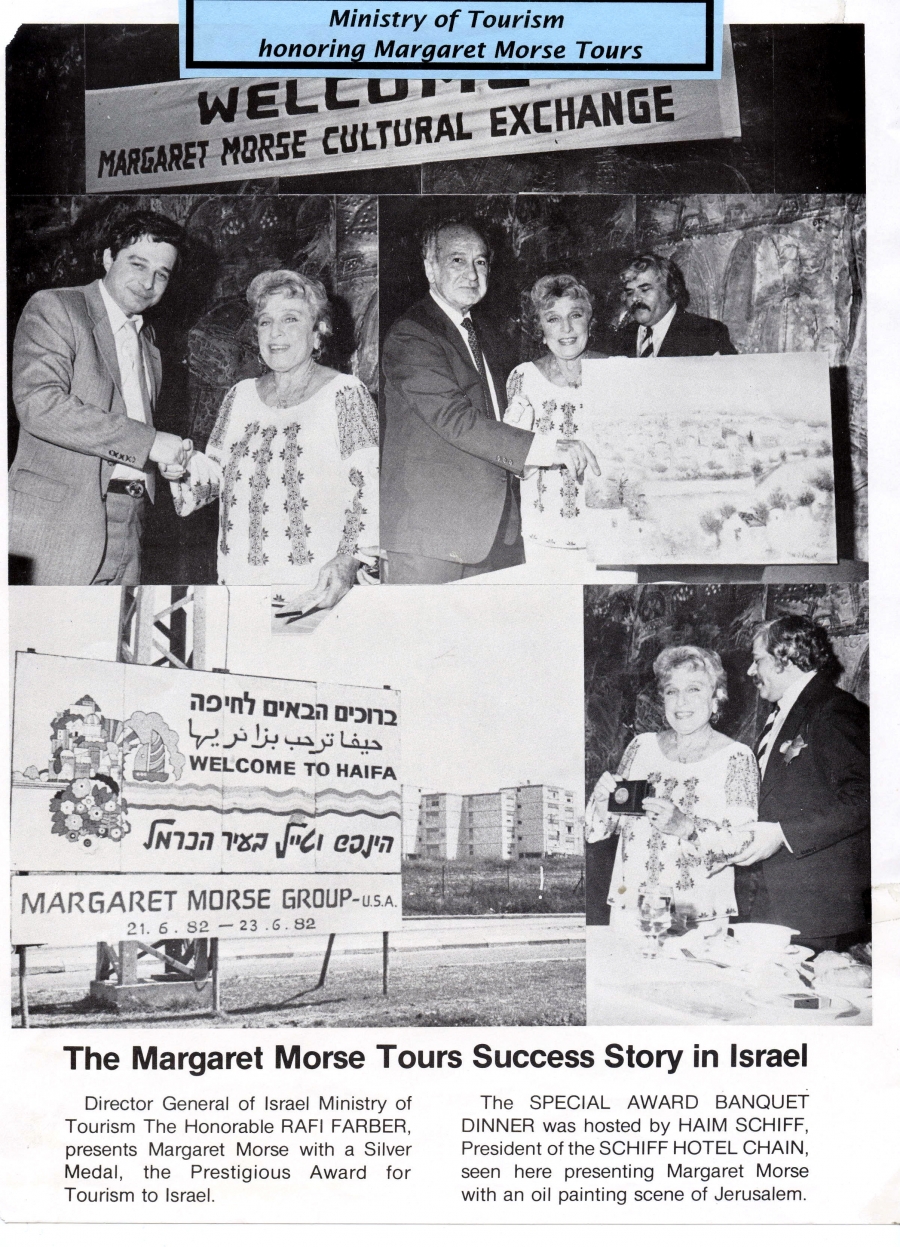 1982 - Israel Ministry Tourism Award
Margaret Morse receives recognition for her new endeavor in life bringing and promoting tourism to Israel.

Israel's Leading Hotel Chains Honor Margaret Morse Tours
1987 - The Dan Hotels awards Margaret Morse and Margaret Morse Tours


1989 - Isrotel Chain presents Margaret Morse Tours with Eilat Tourism Award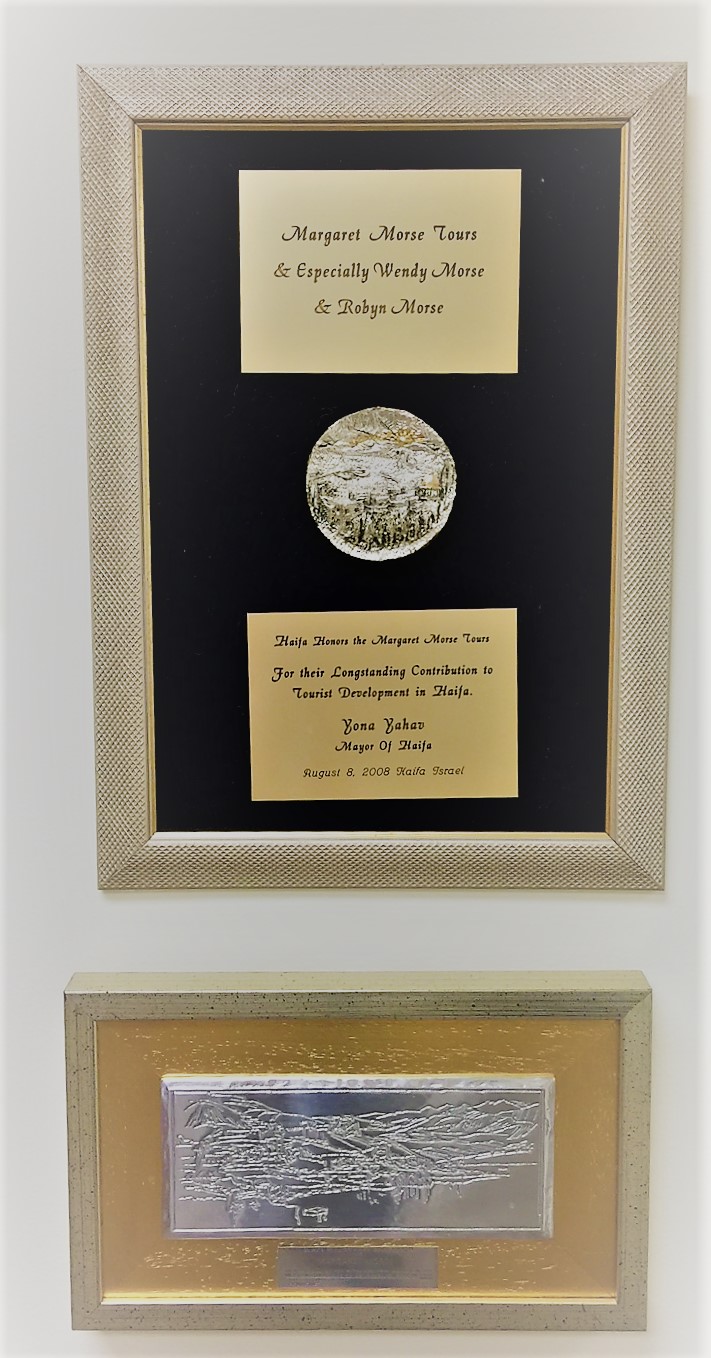 2008 The City of Haifa Honors Margaret Morse Tours
2008 Haifa presents Wendy, daughter of Margaret Morse, and Robyn, granddaughter of Margaret, with an award for Margaret Morse Tours longstanding contribution to tourist development in Haifa.


Below the Haifa Tourism Award is an award from EL AL Airlines in 1998 honoring Margaret Morse Tours extraordinary achievements in promoting tourism to Israel on EL AL airlines.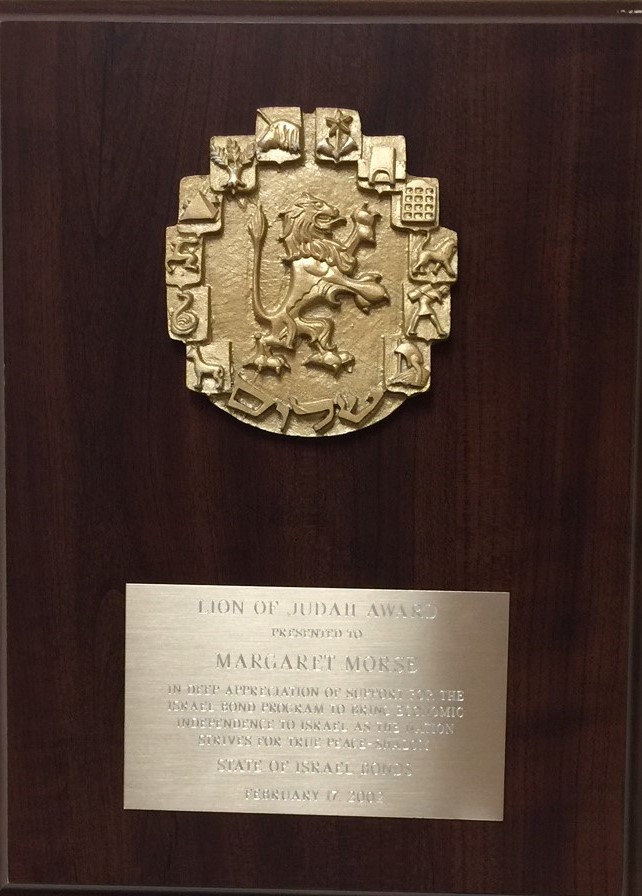 Lion of Judah Award 2002
In 2002, Margaret Morse receives the Lion of Judah Award in deep appreciation of support for the Israel Bond program to bring economic independence to Israel as the nation strives for true peace-Shalom.


State of Israel Bonds
February 2002

Giving Back ....
More Awards from .....


American Technion Society 1990
Children of ALYN Hospital 1996
1995 Exemplary Efforts on behalf of American Red Magen David for Israel and the People of Israel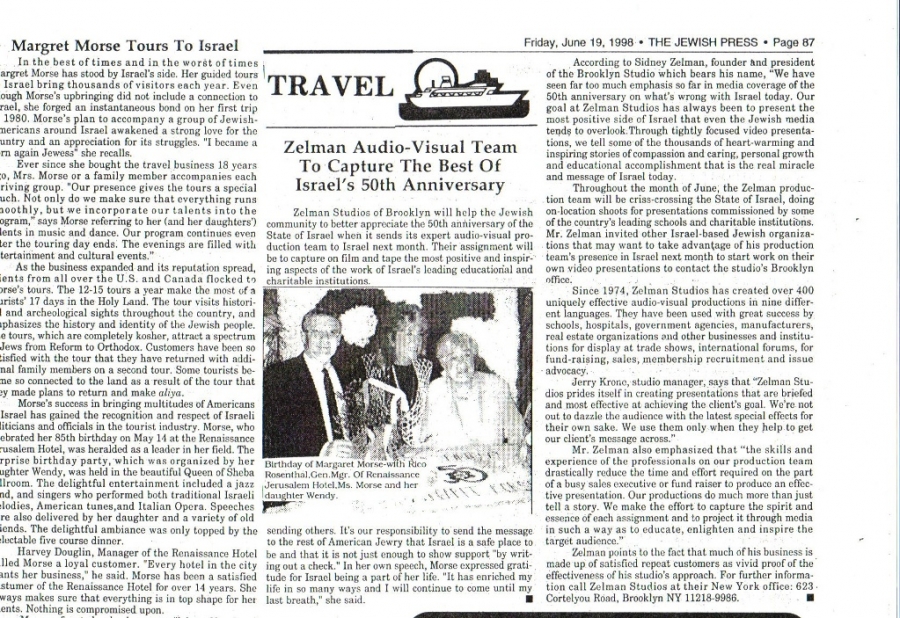 The Jewish Press recognizing MMT and Israel's 50th Anniversary
Travel Section of the Jewish Press recognizing Margaret Morse and the role of Margaret Morse Tours making a difference for Israel.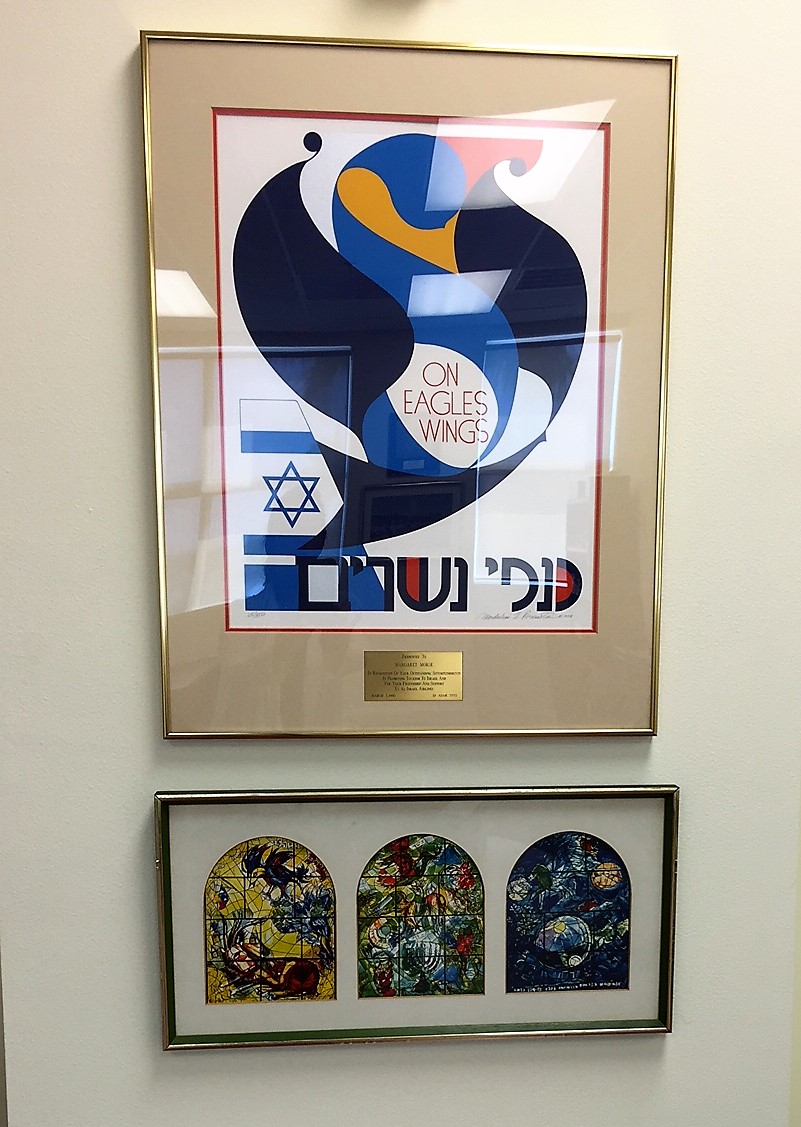 EL AL AIRLINES
In recognition of our friendship and outstanding support
EL AL AIRLINES
1995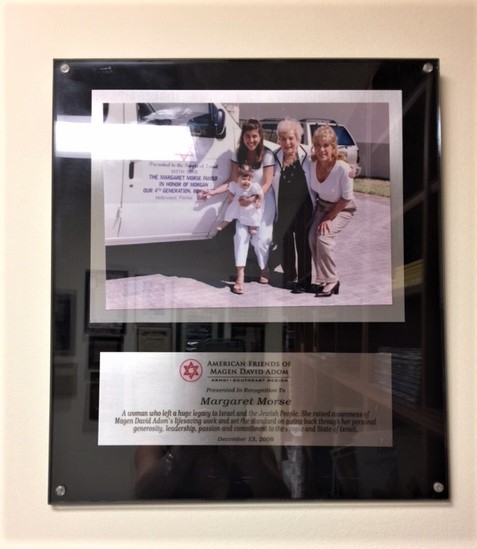 Gifting to Israel - #3 Ambulance in honor of the 4th generation American Friends of Magen David Adom
Margaret Morse

A woman who left a huge legacy to Israel and the Jewish People. She raised awareness of Magen David Adom's lifesaving work and set the standard on giving back through her personal generosity, leadership, passion and commitment to the People and State of Israel.